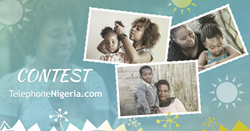 Sending mobile phone credit to my folks in Nigeria with TelephoneNigeria.com is like cyber magic! Before you say hello, they get the alert and start wondering how I did it. (Aladin Anyebe on Trustpilot)
Atlanta, Georgia (PRWEB) March 22, 2017
TelephoneNigeria.com, the platform dedicated to Nigerian expats worldwide, hosts a new contest on its Facebook community page between March 23-26, 2017. Those who leave a comment related to a nice memory together with their mother, get the chance to win a free top up for a mobile in Nigeria, of a relative or friend. The winner will be picked randomly on March 27, from those who have left a comment on the Nigerian community page: https://www.facebook.com/TelephoneNigeria/
The contest runs from March 23 to March 26, and invites all Facebook fans of TelephoneNigeria.com and other visitors to leave a comment related to a most vivid memory with their mothers. This is a good occasion for the Nigerian community on Facebook to meet up and share childhood memories, as well as take some time for personal recollection of a most important relationship of their life.
But above all, the contest gives participants a chance to win free mobile credit for one's family member or friend in Nigeria via TelephoneNigeria.com. In order to fully redeem the prize, the winner's friend or relative should needs to have a phone number pertaining to MTN, Airtel, Glo or Etisalat in Nigeria. These are the operators welcoming airtime to Nigeria mobiles from abroad via TelephoneNigeria.com.
The contest lines up with the general activity on TelephoneNigeria.com. The website supports long distance relationships between Nigerian mothers and sons or daughters, living and working away in the USA, Canada, Europe, Australia, Asia and other parts of the world.
Generally speaking, online Mobile Recharge to Nigeria is easy to make, by simply filling in the online form on the website. The amount gets to the beneficiary in Nigeria instantly, and can be used according to the Terms of the local operator: Etisalat, Airtel, Glo or MTN.
Payment is flexible. All currencies are accepted, and all major cards, as well as Paypal.
The website also offers international calls to Nigeria, besides the instant mobile credit transfers online for expats' relatives there. The lowest rate to call Nigeria is 8 cents/minute. That is available with Nigeria 300 monthly plan. Occasional Voice Credit for calls to other destinations in the world is also available on TelephoneNigeria.com.
Both Voice Credit (international calls) and Mobile Recharge services are available in the same account, and no contract is required in order to use the service. Plus:

The service guarantees 100% security; the website is "Certified & Verified."
Customer Support is available 24/7 in several languages.
All transactions and call records are available for the last 30 days and all invoices are stored in the online account.
Regular promotions are announced on the Community Facebook page: https://www.facebook.com/TelephoneNigeria/
TelephoneNigeria.com is a mobile-friendly website dedicated to the Nigerian diaspora in the USA, Canada, Australia, Asia and Europe. The service is a brand of KeepCalling, a global telecommunications company registered in 2002 in the USA. Presently, KeepCalling provides its services to hundreds of thousands of consumers and businesses, with a focus on customer satisfaction and transparency of service. KeepCalling was listed by Inc 5000 as one of the fastest growing companies in the USA for 5 consecutive years.