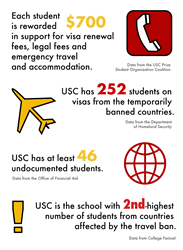 "With this fund, we are demonstrating both our solidarity with and our commitment to our fellow students, staff, and faculty who face an unprecedented and un-American assault." -Chris Lo-Records
Los Angeles, CA (PRWEB) March 21, 2017
For the first time at an American university, an emergency fund has been established to help international and undocumented students facing revocation of their visas due to the Trump Administration's actions. Launched at the University of Southern California by the Graduate Student Government, the fund aims to aid students affected by the updated executive order barring citizens from six Muslim-majority countries from entering the U.S., as well as students associated with the Deferred Action on Childhood Arrivals (DACA) program.
The emergency fund builds upon the efforts of the USC chapter of Books Not Bombs, a student-run campaign that works to secure scholarships for Syrian students displaced by conflict and violence. Books Not Bombs is active at more than 200 campuses and has gained the support of 18,000 students across the country.
"Colleges and universities rely on the contributions of students, staff, and faculty from around the world, regardless of their immigration status, religion, or national origin," said Chris Lo-Records, Campus Coordinator for Books Not Bombs. "They produce the technologies that make our cities more sustainable and productive, conduct the medical research that results in cures for our diseases and provide solutions to many of the most pressing problems that we face."
The fund provides up to $700 in support for visa renewal fees, DACA renewal fees, legal fees, and emergency travel and accommodation. To be eligible, students must be enrolled in a USC graduate or professional degree program and provide financial documentation through an app created for the fund.
As part of this effort, the Graduate Student Government is also working to raise awareness about the fact that international students provide much more financial support to public and private universities than they receive from them. According to the Institute of International Education, nearly 70% of international students pay tuition entirely out of pocket, contributing billions of dollars that universities use for grant and scholarship aid, the vast majority of which is restricted to domestic students. In many cases, undocumented and international students—including students from Iran, Libya, Somalia, Sudan, Syria, Yemen— provide the necessary revenue that allows needy domestic students to access educational opportunities that would otherwise be out of reach.
"With this fund, we are demonstrating both our solidarity with and our commitment to our fellow students, staff, and faculty who face an unprecedented and un-American assault from forces who seek to obscure the essential contributions that immigrants and refugees have made and continue to make to this country," said Lo-Records. "We will continue to identify and pursue opportunities to stand with them in the months and years to come."
More information about the GSC Fund to Support Undocumented and International Students is available here.
More information about Books Not Bombs is available on Facebook, Medium, Twitter.
Interviews & Media Requests
Jes Siart: jesatgzandassociates.com | 603-289-8707
Beatrix Maes: beatrixatgzandassociates.com | 347-335-1792
Shiyam Galyon: shiyamatbooks-not-bombs.com
Chris Records: chrisatbooks-not-bombs.com