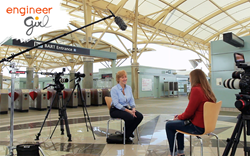 This is a project we are extremely proud of and one that will resonate with our students for years to come.
San Jose, CA (PRWEB) March 22, 2017
Instructor George Retelas and students from SAE Institute San Jose have teamed up with middle schoolers to create a multi-media project for EngineerGirl to benefit science, technology, engineering, and mathematics (STEM) education. EngineerGirl is a non-profit service of the National Academy of Engineering (NAE).
The project was the culmination of over 2 years of planning, countless extracurricular production hours, and the participation of dozens of students from Motion & Graphic Design, Digital Filmmaking, Interactive Audio, and Game Art & Design programs. 10 female middle schoolers with interest in STEM education were chosen as finalists from auditions held at the SAE Institute San Jose campus. They served as correspondents on the project, interviewing outstanding women working in engineering.
"The idea of the project was to work with a non-profit organization to showcase women in STEM. We chose engineering because there is still a lot of misconception about that field of study where women are still a minority. We thought it would be interesting for girls to hear from women engineers about the exciting opportunities that engineering presents for them in the field of STEM education," says George Retelas.
Students had the opportunity to work directly with several major companies including Disney Pixar, Ford Research & Innovation Centers, GE Ventures, NASA, and others in creating 18 short interview-style videos for the EngineerGirl website. Each video features women working in several areas of engineering, as well as two women from the original "Rosie the Riveter" campaign about women engineers produced during World War II.
The project also allowed students to practice their project management and marketing skills in addition to their audio, music production, and video editing skills, all while bringing attention to the engineering opportunities available to women.
Retelas says, "This is a project we are extremely proud of and one that will resonate with our students for years to come. Not only did it provide students with practical experience, it offered them invaluable opportunities to meet and learn about these impressive engineers."
Working on the project was a fantastic experience for everyone -- students, parents and professionals.
"It was an honor to be given the chance to score the music for EngineerGirl," says Cristian Muñoz, a student of the Interactive Audio program.
"Working on EngineerGirl was a great experience! Not only was it fun creating the music but I learned so much about these amazing engineers," says J.P Esquivel, also studying in the Interactive Audio program.
In celebration of Women's History Month, these inspiring videos will be launched throughout the month of March from the National Academy of Engineering on Twitter @EngineerGirlNAE, and can also be viewed on YouTube searching #EngineerGirlShow. The #EngineerGirlShow project aims to inspire young girls to consider a career in engineering.
About SAE
SAE Institute provides aspiring creative media professionals with a foundation of practical theory and valuable hands-on training in their chosen areas of concentration. Under the guidance of industry-experienced faculty, students gain the essential experience they need for entry-level jobs in the creative media industry. Students are supported in their job searches by SAE Institute's international network of alumni, many of who are leaders in the music, film, game arts, and live performance arenas. SAE Institute offers accredited programs in Audio, Animation, Film, Games, and Music Business focused on preparing students for employment in the creative media industry upon graduation. SAE Institute Group, Inc. is a part of Navitas LTD. Learn more at usa.sae.edu.
About Navitas
Navitas is an Australian global education leader, providing pre-university and university programs, English language courses, migrant education and settlement services, creative media education, student recruitment, professional development, and corporate training services to more than 80,000 students across a network of over 120 colleges and campuses in 31 countries. Learn more at Navitas.com.