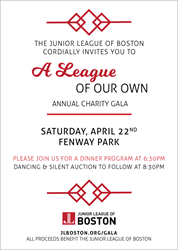 Boston, MA (PRWEB) March 23, 2017
Rounding the bases with excitement, the Junior League of Boston (JL Boston) announced today that this year's Annual Charity Gala will be at Fenway Park on Saturday, April 22, 2017. Showcasing "A League of Our Own," the host committee invites you to hear JL Boston's story with dinner, dancing, and an auction.
As JL Boston celebrates 110 years of service, those in attendance will tip their hats in acknowledgement to the trailblazers who have stepped up to the plate and hit it out of the park with their tenacious spirits. Built on the foundation of women building better communities, JL Boston's tradition of improving and empowering the lives of women and girls continues to the next generation.
All proceeds enable the organization's mission of developing the potential of women, training volunteers and women leaders, promoting voluntarism: directly serving girls through mentoring, Arts and STEM programs, and improving Boston community.
The support received from this event makes it possible for programs like JL Boston Arts to continue inspiring girls to be creative and confident leaders. Twelve girls enrolled in this program recently visited the Museum of Fine Arts in Boston with JL Boston volunteers. The girls viewed a Roman Statue of Athena, Frida Kahlo's first purchased artwork Dos Mujeres, and The Daughters of Edward Darley Boit by John Singer Sargent.  Much discussion was had about the significance of these pieces, the women, and the cultural environment at the time they were created. After the tour, the girls were instructed on how to do self-portraits in the impressionist gallery for inspiration. JL Boston Arts is one of many girl-mentoring programs offered by JL Boston in which surveyed volunteers feel like they "are making a real difference in the community".
"Inclusiveness and growing impact as we enable all youth are our top priorities. Just like our founders in 1906, we create custom project curriculums, support causes, and deliver the best experiential training many of our members say they have ever had," said Pamela Lynch, president of the Junior League of Boston. "Women have always provided 'boots on the ground' support for unmet needs of Greater Boston. Sometimes we stand up for visible issues and sometimes our work is entirely behind the scenes."
Please join us at Fenway Park on Saturday, April 22, 2017 and help us grow our impact as we look forward to our 12th decade of service to the Boston community. For Gala sponsorship information or tickets, please visit JLBoston.org.
###
About Junior League of Boston
The Junior League of Boston, Inc. is an organization of women committed to promoting voluntarism, developing the potential of women and improving communities through the effective action and leadership of trained volunteers. Its purpose is exclusively educational and charitable. JL Boston is a 501(c)3.