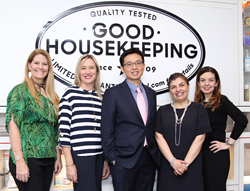 "On behalf of everyone at Dr Wang Skincare, I am honored to accept this award." Steven Wang, MD "We are just thrilled to see our three years of research has yielded an effective product that will help people with eczema and other skin conditions."
Chatham, New Jersey (PRWEB) March 23, 2017
The founders of Dr. Wang Herbal Skincare, a developer of herbal-based and non-steroidal skincare products, was awarded as winners of American Dreams & Good Housekeeping Seal Initiative, a nationwide search for passionate entrepreneur with innovation products. This competition was hosted jointly by HSN and Good Housekeeping.
Steven Wang, MD., a renowned dermatologist and medical researcher, and his father, Gui Wang, Lac a specialist in Chinese herbal medicine and acupuncturist for over 35 years, created the Eczema Ointment to help people with eczema and other itchy skin conditions. After 3 years of research, the duo was successful in creating this herbal-based, gentle balm that helps protect skin from irritation, promotes hydration and soothes itch. The product has no steroids. The Dr. Wang Eczema Ointment retails for $29.99.
Dr. Wang Eczema Ointment was chosen after a rigorous review by a knowledgeable panel of judges from both HSN and Good Housekeeping Institute. There were hundreds of contestants who submitted their inventions. The Eczema Ointment was selected as one of the nine finalists, and appeared on HSN last December. During the December HSN appearance, Dr. Wang Eczema Ointments sold out in minutes, which demonstrated the strong demand and efficacy for this product.
Following that successful debut on HSN, Dr. Wang Eczema Ointment was tested independently by the Good Housekeeping Institute, where the researchers recruited eczema suffers to use the product. After 4 weeks of trial, there was strong consensus that the product worked in helping people with eczema and other skin conditions with itchy, dry, irritated and cracked skin.
There are over 130 million Americans with eczema and sensitive skin who struggle with constant itchy and unsightly rashes. Many are looking for alternative solutions to attain healthier skin. Dr. Wang and his team embrace the holistic approach to provide relief for people with sensitive skin conditions. Their unique formula provides steroid-free, hydrating relief. Eight proprietary herbs with anti-inflammatory and antibacterial properties are used to calm the frequent inflammation seen in eczema and other skin conditions. In addition, the ointment features natural oils, ceramides, shea butter, beeswax and hectorite to help rebuild the damaged and irritated skin barrier.
About Dr. Wang Skincare, LLC: Dr. Wang Skincare, LLC, is a skincare company based in Chatham, New Jersey. Founded by a father-and-son team, the company formulates novel skin care products by combining the power of Eastern botanicals with the rigor of Western sciences. To learn more about their breakthrough, natural, herbal and non-steroidal products for people with eczema and other skin conditions visit: http://www.drwangskincare.com/