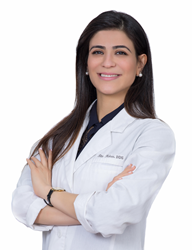 El Segundo, CA (PRWEB) April 06, 2017
Patients in need of pediatric dentistry in El Segundo, CA, can now receive gentle and effective care from Dr. Bita Kohan, the newest team member of the multi-specialty practice, Dr. Smile. Dr. Kohan is a general dentist who has limited her practice to pediatrics and is licensed to offer sedation dentistry to pediatric patients who experience dental fear or anxiety. Offering endodontics, periodontics, oral surgery, orthodontics and general dentistry from qualified specialists, the Dr. Smile team is happy to announce that with Dr. Kohan's pediatric care, they now offer a full array of dental services to their community.
Dr. Kohan is proud to be the newest member of the highly experienced Dr. Smile team and invites parents of young children to schedule appointments for first dental visits, as well as regular pediatric dentistry appointments, with Dr. Kohan. As a first priority, Dr. Kohan educates parents and young patients on the importance of proper oral hygiene techniques in order to establish lifelong, healthy oral habits.
Oftentimes, pediatric patients experience anxiety or fear before receiving dental care. As a result, Dr. Kohan also offers sedation dentistry to help young patients feel relaxed and comfortable during each treatment. Whether children are anxious about receiving dental care due to traumatic past experiences or simply because they have limited experience at a dental office, sedation may be an effective solution to keep them calm and comfortable while they receive necessary dental care.
Patients who wish to receive comprehensive dental treatment for their entire families in one location are encouraged to visit Dr. Smile and avoid the hassle of multiple practices with incomplete treatment. The Dr. Smile team collaborates to craft customized treatment plans designed to improve oral health, functionality and appearance.
Parents of young children who are nervous about visiting the dentist are invited to schedule a sedation dentistry appointment with Dr. Kohan. As a compassionate provider of pediatric dentistry in El Segundo, CA, Dr. Kohan is experienced in helping young patients feel cared for and safe in a treatment setting.
About the Practice
Dr. Smile is a multi-specialty dental practice offering a wide variety of services for patients in El Segundo, CA. Drs. Hossein Javid, Chris Acone, Michael Belton, Jose Perea and Ester Feldman offer specialized and highly-trained care using the latest dental technology in their state-of-the-art facility. A team of dentists, periodontists, endodontists, oral surgeons and orthodontists, Dr. Smile offers complete, comprehensive care. To learn more about Dr. Smile or its distinguished team members, visit their website at http://www.drsmiledental.com or call 310-643-6221.