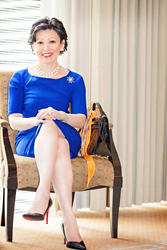 While we have unsurpassed opportunity here in America, we can spur more global cross collaborations with the world to enable more growth, opportunity and sustainability for all
San Francisco, California (PRWEB) March 23, 2017
The Silicon Valley Asia Technology Alliance (SVATA), a nonprofit dedicated to fostering global cross-collaborations between Silicon Valley and Southeast Asia, today announced that Sonita Lontoh, co-founder and executive director, has been selected by the Robert Chinn Foundation to be inducted into the national Asian Hall of Fame, class of 2017.
The Asian Hall of Fame was established in 2004 and is a national recognition event for Asian Pacific Americans that honors achievements across industry and ethnicity with a national reach. The event not only honors achievements, but also inspires the next generation and builds a national community of Asian Pacific Americans. It seeks to effectively support programs and initiatives that lead to the enhancement of the civic, economic, educational, and cultural quality of life in diverse communities. Past inductees include Bruce Lee (martial artist), Connie Chung (network journalist), Kristi Yamaguchi (Olympic gold figure skater champion), Norman Mineta (former US Secretary of Commerce and Transportation), Gary Locke (former US Secretary of Commerce, Governor of Washington State, and US Ambassador to China), Nathan Adrian (five-time Olympic gold swimmer), and Apollo Ohno (eight-time Olympic medalist speed skater).
This year's class includes Johnny Damon (former Yankee/Red Sox player, two-time World Series Champion), Daniel Dae-Kim (Hollywood producer and actor), Duy Loan-Le (inventor with 24 patents) and Sonita Lontoh (Silicon Valley Tech Executive, White House Global Entrepreneurship Speaker and US State Dept TechWomen Mentor). The four honorees will be inducted into the 2017 Asian Hall of Fame during an Asian-Pacific American Heritage Month banquet at the Fairmont Olympic Hotel in Seattle on Saturday, May 13, 2017.
Lontoh is honored for her work that addresses the intersection of technology, policy, and business models, which also delivers on societal benefits and improves the global cross-collaborations on innovation, human capital and leadership development between the United States, esp. Silicon Valley, and the Emerging Markets in Asia. She has been invited by the White House to speak at President Obama's Global Entrepreneurship Summit in Silicon Valley and to attend a celebration for AAPI Women Champion of Change. She has also been invited by former U.S. Secretary of State John Kerry to a roundtable to discuss global energy transformation issues. Additionally, Lontoh is a selection committee member and mentor for TechWomen, a U.S. Department of State's women-in-technology initiative originally launched by former U.S. Secretary of State Hillary Clinton. TechWomen has brought more than 450 emerging women leaders from emerging countries for a 5-week intensive project-based experiential learning in Silicon Valley. She is also a mentor and selection committee member for Endeavor, the global high-impact entrepreneurship nonprofit. In 2016, Endeavor entrepreneurs created companies that produced more than $8.1 billion in revenues and created more than 600,000 high-quality jobs globally.
"It is an honor to be recognized for the Asian Hall of Fame. I think my heritage gave me the opportunity to look at the world from a more global perspective, that while we have an unsurpassed opportunity here in America, we can also help spur more global cross-collaborations between America — especially in technology in Silicon Valley — and the world to enable more growth, opportunity, and sustainability for all," Lontoh said.
"We are proud to announce our four Class of 2017 Honorees for the Asian Hall of Fame: Johnny Damon, Sonita Lontoh, Daniel Dae Kim, and Duy-Loan Le. This is an incredible class representing sports, technology, entertainment and engineering," said Karen Wong, President of the Robert Chinn Foundation. "Sonita is our first honoree of Indonesian descent and we recognize her exemplary contributions on the national and international stage to advance global cross-collaborations in technology between the United States and emerging Asia. She epitomizes the spirit of the Asian Hall of Fame and celebrates our Asian American culture, heritage and achievement."
For more information on the 2017 Asian Hall of Fame, please visit http://www.robertchinnfoundation.org/asian-hall-fame/
------------------------------------------------------------------------------------------------------------------------------------------------------------------------------
About SVATA
SVA Technology Alliance (SVATA) is a Silicon Valley-based nonprofit whose mission is to connect and spur global cross collaborations between the tech ecosystem of Silicon Valley and Southeast Asia. SVATA collaborates with top Silicon Valley's technology entrepreneurs, venture capitalists and incubators/accelerators to create an ecosystem that can help high-growth technology companies from emerging markets succeed on a global level. To learn more, visit http://www.svatechnology.com