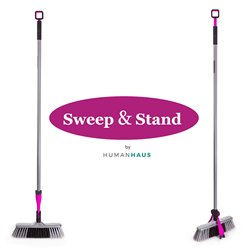 Self-Standing Broom, making your life more efficient. Similar to the efficiency of a foot-pedal on a trash can...how can you live without it!
Toronto, CANADA (PRWEB) March 22, 2017
HumanHaus is proud to announce the launch of its newest invention on crowdfunding platform Indiegogo today, the Sweep&Stand. The conventional broom was great when it was invented, but our customers today are busy, energetic, multi-taskers that live in a smarter world. They are the working parents, the social young couple, the empty nesters and retired that want to travel. The Sweep&Stand is a self-standing broom that gives you the ability to stand your broom anywhere at any time, truly allowing the user to multi-task with ease. The Sweep&Stand broom provides innovation in terms of efficiency, similar to when they added a foot-pedal on a trash can.
HumanHaus designed and built the Sweep&Stand with the ultimate consumer in mind. Our research shows that brooms that were left on the floor or have fallen accounts for a significant percentage of unavoidable accidents in the home, and many in the elderly population have difficulty bending to pick up their brooms. "The goal of Sweep&Stand is to make cleaning easier and safer", says R.K. Sirpal, the founder of HumanHaus and designer of the Sweep&Stand. "This broom was designed with the homeowner in mind, once the kickstand is operational, the broom stands upright, eliminating potential accidents from it falling down, knocking something over or breaking it, creating a tripping hazard, and leaving scratches on the wall".
Sweep&Stand is available on Indiegogo until May 5, 2017, and interested backers can receive the product at a discounted rate. To learn more, or find out how you can contribute to the success of this innovation, visit http://www.indiegogo.com/at/sweepandstand .
ABOUT HumanHaus
HumanHaus was founded by R.K. Sirpal in Ontario, Canada and focuses on designing products that you want to use. The company is dedicated to developing well thought out consumer products that stem from their core mission "Matters of Efficiency". Visit http://www.indiegogo.com/at/sweepandstand to learn more about our products.
Media Kit for Sweep&Stand is available here.