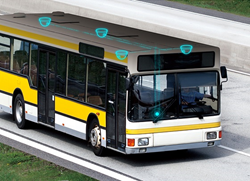 Las Vegas, NV (PRWEB) March 22, 2017
The largest security industry trade show in the US is coming to Sands Expo in Las Vegas from April 5-7, 2017. Guests at ISC West will be able to visit NEXCOM and see a demonstration on how 3D camera with TOF technology would be the cost effective and ideal choice to collect raw data to be used with business intelligence software suites. Depth imaging data collected could be used to generate comprehensive reference reports to make accurate strategic decisions to improve workflow, increase efficiency and boost business growth. Features such as people counting for retail analytics and smart factory will also be highlighted as they pertain to different application scenarios.
In addition, NEXCOM will showcase a mobile solution that performs 4-channel live view and video recording without lags, while simultaneously run analytics software like facial recognition or people counting. It is an ideal solution for public transit, such as light rail trains and buses.
Register today for free expo pass and visit NEXCOM at booth #9125. You won't want to miss out.
Solutions NEXCOM will showcase:

3D cameras with People Counting SW
SYSKAM powered by Intel processor
Transportation solution with professional ANPR cameras
20MP/8MP Multi-Image cameras
PoE NVR and various NVR platforms
4x 1080p IP Camera & 3 x Vehicle Mount Display Mobile NVR
Link for free expo registration: http://iscwest.nvytes.co/c/i/DP465AR.html