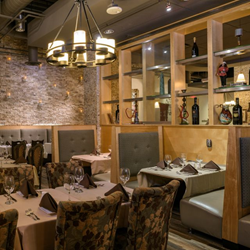 We love hospitality and it shows!
Cupertino, CA (PRWEB) March 21, 2017
Arya Global Cuisine, located in Redwood City, Calif., has officially launched Arya Steakhouse.
Arya owners Mike and Fera Hashemi said the move comes in response to Arya's five-year anniversary of being in business.
"It was a great decision, our favorites on one menu," they said. "Persian food is all about grilling meats, chicken, and seafood, and making stews with delicious sides."
The idea of a steakhouse was something the Hashemis had in the back of their minds for quite some time. Finally, it was decided that Arya's five-year celebration marked the perfect time to expand and reopen as Arya Steakhouse, the only steakhouse in Downtown Redwood City.
The menu of Arya Global Cuisine now features both the best in Persian cuisine, as well as a full steakhouse menu. This includes mouthwatering appetizers, seafood towers, specialty steaks such as the Tomahawk and Wagu, and comfort food sides like mac 'n' cheese, potato pot, and flavored Persian rice dishes. Don't forget to save room for dessert. Arya has tasty ones prepared daily by two in-house pastry chefs.
Arya Global Cuisine features a great dining experience with many excellent menu options and a romantic ambiance. It also has private dining rooms available for any event, as well as a lunch menu and weekend brunch menu. Call or stop by for more information. The website is http://www.aryasteakhouse.com
Come and see the first Persian Steakhouse.
http://www.aryasteakhouse.com
About the company:
San Jose's Arya Restaurant is a Middle Eastern restaurant that features belly dancing, global cuisine, and delicious and exotic Persian and Italian food. With two locations in Redwood City and Silicon Valley/Cupertino, the restaurant is the result of Chef Mike Hashemi's love for Persian and Italian food, as well as his love for cooking and serving people with the best of both worlds. Arya's San Jose banquet rooms are available for every occasion as well as corporate catering and private dining. Arya is the premier Persian restaurant in Cupertino and Redwood City, California. They are committed to providing each and every guest with superior service and a pleasant dining experience. For more information, visit their website at http://aryarestaurant.com.