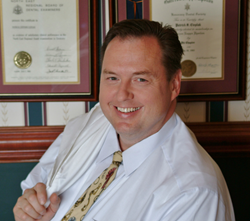 La Plata, MD (PRWEB) March 21, 2017
New patients experiencing snoring, daytime drowsiness, morning headaches and other symptoms of sleep apnea in La Plata, MD are now welcome to meet with Dr. Patrick Cieplak for a consultation, with or without a referral. Dr. Cieplak is a respected family dentist who has served his community for over 30 years and has completed more than 1,500 hours of continuing education. Dr. Cieplak is also trained by the Dawson Academy and has a thorough understanding of oral structures and how their interaction can cause sleep apnea if they do not function properly.
Sleep apnea is a very common but misunderstood condition that can affect a person's quality of life. Since most of the obvious symptoms exhibit themselves at night, many people who have sleep apnea in La Plata, MD do not realize they have it until their daytime symptoms become more pronounced and severe.
Over time, untreated apnea can lead to overall health problems and chronic drowsiness. Common symptoms of the condition include loud snoring, morning headaches, and excessive and unexplained fatigue. There are two main types of apnea: obstructive sleep apnea and central sleep apnea. The obstructive type is the most common, and occurs when the airway becomes blocked at night, commonly by the tongue. Central sleep apnea is more serious and occurs because the brain fails to send proper breathing signals to the muscles.
Dr. Cieplak has been trained by the Dawson Academy, which gives dental professionals a thorough and complete understanding of sleep apnea and its underlying causes. After evaluating each patient's unique case and determining the underlying cause of sleep problems, Dr. Cieplak recommends one or more treatments, which may include recommendations for healthy lifestyle changes, oral device fittings or surgery.
Dr. Cieplak encourages patients who frequently wake from snoring and who suspect that they have sleep apnea in La Plata, MD to seek treatment. Consultations can be scheduled by calling Cieplak Dental Excellence at 301-609-9999.
About the Doctor
Dr. Patrick Cieplak is a general dentist offering personalized dental care to patients in La Plata, MD. Dr. Cieplak is dedicated to learning the latest dental techniques and has completed hundreds of hours of continuing education courses. Dr. Cieplak is one of only 3,000 dentists to receive the Academy of General Dentistry's Master's Degree and he is a Fellow in the International Congress of Oral Implantlogy as well as Associate Fellow in the American Academy of Implant Dentistry. Cieplak Dental Excellence strives to offer each patient customized treatment to help them achieve proper oral health. To learn more about Dr. Cieplak, his team or the services they offer, please visit http://www.patcieplakdds.com or call 301-609-9999 to schedule an appointment.