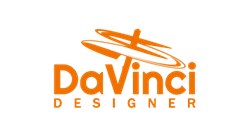 DaVinci Designer is the only software that can visualize these amazing finishes over the internet.
Las Vegas, Nev. (PRWEB) March 23, 2017
From Feb. 20-23, DaVinci Designer (DaVinci) joined top print industry decision makers at Hunkeler Innovationdays 2017. Held in Lucerne, Switzerland, DaVinci demonstrated its state-of-the-art online product customization tool to some 6,000 attendees at the premier event for high performance digital printing and finishing.
Hunkeler Innovationdays specializes in customized multi-vendor post-production solutions. Global brands from 50 countries, including Konica Minolta, dmax by Steinemann Technology AG and Scodix, participated in the unique trade show format at the bi-annual event. Showcasing approximately 40 production lines, each featured complete end-to-end applications that integrated modules from several partnering brands.
DaVinci Designer attended as a guest of exhibitor Argos Solutions, a European print development and manufacturing company that recently launched an inkjet spot UV and texture coater. DaVinci's special rendering engine is the only online software capable of digitally displaying enhanced effects in 3D, like Argos' coater.
In addition to producing 3D proofs of special effects like texture, spot UV and glitter, the realistic and interactive digital display can also show folding and effects on packaging and other 3D products.
"DaVinci Designer really helps show our potential customers what our digital coater can produce," shared Ronald von Lindenberg, president, Argos Environmental Corp. "This is the only software that can visualize these amazing finishes over the internet."
DaVinci's advanced designing and proofing with real-time editing capabilities and integrated PDF builder facilitate the printing process for print resellers and trade printers. The web-to-print solution powers e-commerce sites like online trade printer Rent A Press and retail web-to-print site Overnight Prints.
Hunkeler Innovationdays will return to Messe Lucerne from Feb. 25-28, 2019.
To schedule a demonstration or for more information, visit davinci.opensoftdev.com/demo
###
About DaVinci Designer
DaVinci Designer is a wholly owned subsidiary of Opensoft Inc., located in Las Vegas, Nev. Opensoft Inc. has advanced technologies for the print industry and extensive experience in developing print software for managing print processes at every stage of selling, manufacturing and fulfillment.