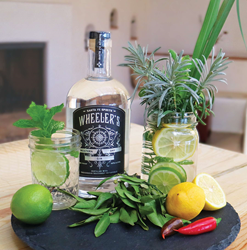 We are thrilled to be partnering with Santa Fe Spirits with a hope of hosting such community events each month. -Wendi Gelfound, Dir. of Marketing, Sunrise Springs Spa Resort
(PRWEB) March 22, 2017
Sunrise Springs Spa Resort announces a series of mixology classes with Santa Fe Spirits Mixologist James Reis, where guests will create their own garden-to-glass infused with garden herbs grown on site.
Launching on March 25, International Happiness Day, the Happy Spirits Mixology Experience will take place in the Sunrise Springs' Willows Horticulture Kitchen from 3:30 pm to 5:30 pm. The cost is $35 per person and $50 per couple. Libations include lemon verbena and rosemary vodka, plus delectable appetizers including. Guests are invited to make a reservation to stay for dinner afterward.
"We're thrilled to be partnering with Santa Fe Spirits on this event. Our plan is to host one to two community events per month, incorporating aspects of our regular experiential guest offerings including culinary and art experiences," said Wendi Gelfound, Director of Marketing for Sunrise Springs Spa Resort. "We're also looking forward to featuring garden-to-glass wine cocktails and non-alcoholic infusions and mocktails in our new Moon House Lounge opening to the public some time in May."
The class is currently limited to 12 people.
For reservations contact 877.977.8212
Sunrise Springs is located at 242 Los Pinos Road in Santa Fe
FOR MEDIA INQUIRIES:
Jennifer Hobson-Hinsley
505 603 8643
Jennifer(at)jlhmedia(dot)com
###
ABOUT SUNRISE SPRINGS SPA RESORT: The only destination spa in enchanting Santa Fe, N.M., Sunrise Springs Spa Resort is a tranquil natural springs sanctuary that has been a source of rejuvenation for centuries, weaving ancient wisdom and healing traditions with modern wellness. At the heart of the resort's 70 acres is a sacred Medicine Wheel surrounded by 20 spacious casitas and 32 guest rooms; the new Ojitos, open-air soaking experience; a spa; a greenhouse; yoga, fitness and expressive arts studios; puppy studio and chicken coop; and two restaurants serving nourishing farm-fresh cuisine. A passionate team of credentialed wellness professionals and Thrive Guides empower guests to discover their unique path to creating harmony amongst the four aspects of wellbeing: mental, emotional, physical and spiritual. All-inclusive packages range from rejuvenating day escapes to multi-day transformative experiences. Guests can also visit the nearby historic sister property, Ojo Caliente Mineral Springs Resort & Spa just north of Santa Fe. http://sunrisesprings.com