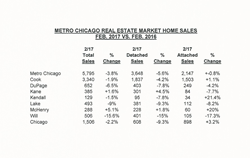 CHICAGO (PRWEB) March 23, 2017
Chicago-area home values took another big step upwards in February, with the median sales price reaching $212,430, up 12.4 percent when compared to the same month last year, RE/MAX reports. That followed a 10 percent increase in January.
"The median sales price in February was the highest for that month since 2008, the period when Chicago-area home values were at their pre-recession peak," said Jack Kreider, executive vice president and regional director of the RE/MAX Northern Illinois network. Nonetheless, the median price is 12.4 percent lower than it was in February 2008. In 2012, the February median sales price fell as low as $135,000, 44.3 percent down from the 2008 peak, before values began rebounding.
"The fact that Chicago is one of the few major markets in the nation where prices are generally still below pre-crash levels means we have considerable room for upside movement," Kreider said. "With the employment picture steadily improving, interest rates at historically attractive levels and a limited inventory of homes for sale, especially those priced close to the median price or lower, we anticipate home values will do quite well this year."
RE/MAX reports that February home sales in the seven-county metro area totaled 5,795, down 3.8 percent from February 2016. The average market time for those homes was 108 days, five fewer than the prior February.
Sales of distressed properties, which are foreclosures and short sales, continue dwindling as a percentage of the Chicago market. In terms of market share, distressed properties peaked in 2012 when they represented 52.7 percent of all February sales. Last month, their share was down to 18.9 percent.
Sales data used by RE/MAX is collected by MRED, the regional multiple listing service. It covers detached and attached homes in the Illinois counties of Cook, DuPage, Kane, Kendall, Lake, McHenry and Will. Detached homes are typically stand-alone single-family dwellings. Attached homes include condominium and cooperative apartments along with townhouses.
In February, the median price rose in all seven metro counties, but only two recorded higher sales. Lake County had the sharpest price increase. Its median price rose 29 percent to $215,000. Double-digit gains were common, with Kane up 15.1 percent to $214,000, Will up 14.3 percent to $199,950, DuPage up 12.1 percent to $255,000 and Cook up 10.6 percent to $210,000.
The median price also rose 9.5 percent in Kendall and 3.9 percent in McHenry. Chicago had a 4.7 percent increase.
Detached Homes
Sales of detached homes across Chicagoland fell 5.6 percent in February compared to February 2016, with 3,648 sales completed. The median sales price rose 10 percent to $225,300. Average market time was unchanged at 120 days.
Sales increased in two counties, gaining 4.5 percent in Kane and 1.8 percent in McHenry. Sales in Cook were down 4.2 percent, which included a 9.3 percent decline in Chicago. Detached sales were down 7.8 percent in DuPage and Kendall, 9.3 percent in Lake and 15 percent in Will.
The median sales price rose in all seven counties, led by gains of 37 percent in Lake and 18.4 percent in Kendall. Other increases were 7.9 percent in Cook, 6 percent in DuPage, 2.8 percent in Kane, 4.1 percent in McHenry and 11.7 percent in Will. The increase in Chicago was 3.1 percent.
Attached Homes
With sales falling just 0.8 percent and the median price up 12.1 percent to $185,000, the attached-home segment of the metro Chicago market outperformed the detached segment during February. Average market time was reduced by 12 days to 88 days.
Demand for attached homes remained strong in Chicago, which accounted for 42 percent of all February attached sales in the metro area. Sales there rose 3.2 percent to 898 units; the median sales price was up 5.1 percent to $298,000.
Cook County as a whole saw sales rise 1.1 percent to 1,503 units. The median price climbed 10.3 percent to $215,000. Among the other counties, Kendall and McHenry stood out. Unit sales rose 21.4 percent in Kendall and 20 percent in McHenry, while the median price was up 9.7 percent in Kendall and 15.4 percent in McHenry.
In the remaining counties, sales numbers fell but the median price rose. The increase in price was 25.4 percent in DuPage, 3.3 percent in Kane, 8.6 percent in Lake and 7.6 percent in Will. Sales activity was off 4.2 percent in DuPage, 7.7 percent in Kane, 8.2 percent in Lake and 17.3 percent in Will.
RE/MAX agents consistently rank among the most productive in the industry. In 2016, RE/MAX Northern Illinois agents averaged 18 transaction sides. RE/MAX has been the leader in the northern Illinois real estate market since 1989 and is continually growing. The RE/MAX Northern Illinois network, with headquarters in Elgin, Ill., consists of more than 2,250 sales associates and 103 independently owned and operated RE/MAX offices that provide a full range of residential and commercial brokerage services. Its mobile real estate app, available for download at http://www.illinoisproperty.com, provides comprehensive information about residential and commercial property for sale in the region. The northern Illinois network is part of RE/MAX, a global real estate organization with 110,000+ sales associates in 100+ nations.
####
EDITOR'S NOTE: RE/MAX® is a registered trademark. Please spell in all caps. Thank you. This release is posted at blog.illinoisproperty.com.