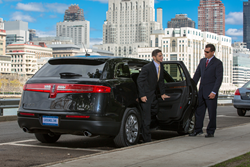 Nearly Ninety Percent of Those Surveyed Will Not Change Travel Plans; Nearly Half Say They Will Avoid Traveling to The Middle East
New York, NY (PRWEB) March 22, 2017
Ninety Percent of Those Surveyed Will Not Change Travel Plans, But Half Say They Will Avoid Traveling to The Mideast
As President Trump's travel ban continues to be challenged by the courts, and international airports across the country struggle with the evolving situation, resulting protests, traffic snarls and delays, GroundLink®, a leading tech-enabled black car service, surveyed 400 travelers on their international travel habits and opinions.
Travelers to Plan Ahead and Leave Earlier for the Airport
The vast majority of those of those surveyed (87 percent) will not make any immediate changes to their international travel plans as a result of the current travel ban situation. Only seven percent will avoid traveling internationally altogether, while six percent will continue to travel internationally for business but avoid traveling out of the country for leisure. Nearly half of those surveyed (46 percent) are just as concerned about terrorist threats abroad this year as they were the same time last year. Thirty percent said they are neither more or less concerned while 21 percent are more concerned this year than they were last year. Even with talk of increased security screening, more "pat-downs" and delays at customs and immigration, most travelers (56 percent) do not plan to make any changes to their travel plans. However, 39 percent said they would plan ahead and leave earlier for the airport. Three percent said they will reduce their travel in the coming months, and two percent of those surveyed said they would opt for smaller, less congested airports with shorter security lines.
Travelers to Avoid Middle East Destinations; Avoid Taking Public Transportation
Not surprising, the Middle East ranks highest as the region that concerns American travelers most (44 percent), followed by Europe (22 percent). Asia is only of concern to two percent of those surveyed. Along similar lines, 53 percent will avoid traveling to the Middle East, and seven percent will avoid trips to Europe. Interestingly, twice as many women (eight percent) than men (four percent) surveyed said they would avoid Europe. Only two percent said they would not travel to Asia.
When traveling to regions/countries where travelers are less familiar and/or concerned about their safety, they are more likely to avoid taking public transportation (30 percent), avoid using ride-sharing providers (12 percent) and taxis (five percent) and only use reserved black cars or limousines (28 percent).
When traveling internationally, to determine how early to leave for the airport for their return flight home, most (47 percent) of those surveyed rely on the hotel concierge for their recommendation. Another 32 percent go by what their airline recommends, while seven percent go by GPS or a mapping app. Another seven percent just "go with their gut" and only two percent listen to traffic or weather reports to make their determination.
Worst Airports for International Arrivals, Customs and Immigration: JFK, EWR and MIA
When asked what are the worst international U.S. airports for international arrivals, customs and immigration, New York's JFK Airport got the dubious honor, followed by Newark and Miami. The top three airports for international arrivals, according to those surveyed: Denver, Dallas and Houston.
About GroundLink
GroundLink is a tech-enabled provider of executive black car service in major cities throughout the world. Offering the industry's only on-time guarantee, GroundLink focuses on duty of care, with professional drivers who are screened, properly licensed and fully insured. GroundLink offers a multiple booking platform for its consumer and corporate clients that includes its website (http://www.groundlink.com), its iPhone or Android app, and its 24/7 Customer Service Center (855.463.7150). GroundLink has offices in North America and Europe, with its headquarters in New York, NY. Connect with GroundLink on Twitter @GroundLink and on
Facebook.com/GroundLink.
# # #