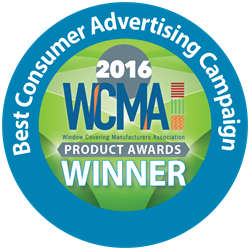 "Somfy is honored to be recognized for our consumer advertising campaign."
Dayton, New Jersey (PRWEB) March 23, 2017
Somfy Systems, Inc., the world's largest manufacturer of tubular motors for interior and exterior window coverings, is proud to accept the Best Consumer Advertising Campaign award from the Window Covering Manufacturers Association (WCMA). Somfy's award-winning commercials show consumers how to "happify" their homes with Somfy-powered window coverings.
Somfy's Happify Your Home™ campaign features dogs and cats operating motorized window coverings with the touch of a paw and even getting tech-savvy with Somfy's myLink™ app. Each commercial focuses on a different benefit of motorized window coverings, including energy saving, privacy, sun control and convenience.
"Somfy is honored to be recognized for our consumer advertising campaign," said Tom Murphy, Chief Operating Officer of Somfy North America. "These fun commercials, featuring some seriously smart pets, show why motorization is the perfect addition to any home."
Somfy offers motorization options for interior products like blinds, shades and curtains, as well as for exterior products like awnings, exterior screens, pergolas, and rolling shutters. As a dominant force in the market for 45 years and with an expanding network of Somfy Experts across the country, Somfy truly understands the benefits of adding motorization to any home or business. The growth of the smart home market makes this an ideal moment to educate consumers about motorized window coverings, the Somfy brand, and the benefits of automation.
The annual WCMA awards are given out at the International Window Covering Expo and recognize ingenuity and achievement in the window covering industry. All entries are evaluated by a panel of judges on criteria such as innovation, quality and impact.
To watch the series of Happify Your Home commercials check out http://www.somfysystems.com/simplify. Visit awards.wcmanet.org to learn more about the WCMA awards.
About Somfy Systems, Inc.
Somfy, the global leader in the manufacturing of strong, quiet motors with electronic and app controls for both interior and exterior window coverings, has North American headquarters located in Dayton, NJ. Over 270 million users worldwide enjoy the more than 150 million motors produced by Somfy. During the past 45 years, Somfy engineers have designed products for both commercial and residential markets to motorize window coverings such as interior shades, wood blinds, draperies, awnings, rolling shutters, exterior solar screens and projection screens. Somfy motorization systems are easily integrated with security, HVAC and lighting systems providing total home or building automation. For more information, visit http://www.somfysystems.com