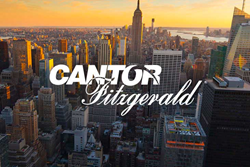 We worked with Cantor's marketing team to design and develop the front-end and back-end of the website. Working with the Cantor team was an amazing experience and we're very pleased with the results.
New York, NY (PRWEB) March 22, 2017
Avex Designs partnered with Cantor Fitzgerald to create a new website for their Wealth Partners division. The new property has a re-designed user-experience, with improved navigation and functionality throughout, allowing visitors to access key information about CFWP.
The purpose of the new website was to reinforce Cantor Fitzgerald's mission, to provide a unique wealth management platform and experience through the combination of client-centered focus, experienced advisors and direct access to the breadth and depth of Cantor Fitzgerald.
Cantor Fitzgerald's old web properties lacked a modern aesthetic and mobile experience. Avex Designs created a responsive platform for Cantor, giving mobile users access to Cantor Fitzgerald Wealth Partners. The team worked together to organize content and structure the website, giving Cantor the power to manage and update content internally.
We focused on Cantor's long history in finance as well as their innovation and client-centered approach, says founder and creative director, John Surdakowski. Using this core mission, we crafted an intuitive and user-friendly platform, both for the end user as well as for the internal team at Cantor.
Avex has worked with Cantor Fitzgerald for almost two years and has designed multiple marketing applications for their global properties and wealth management services.
About Avex:
Avex Designs is a New York Creative Digital Agency, founded in 2013. Avex partners with brands, agencies and start-ups to create engaging experiences, from strategy and consulting to design and development. Clients include: KITH, Sony, Iconix Brand Group, Cantor Fitzgerald, PONY, Rocawear and more.
About Cantor Fitzgerald:
Cantor Fitzgerald LLC is one of the world's leading financial services firms, known for its exceptional product platform, track record of innovation and client-centered approach. Cantor Fitzgerald specializes in institutional equity, fixed income sales and trading, and serving the middle market with investment banking services, prime brokerage, and commercial real estate financing.