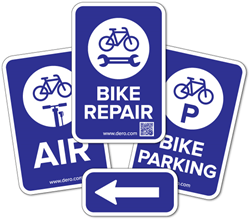 These street and trail signs are a perfect way to promote bike amenities around town.
Minneapolis, MN (PRWEB) March 22, 2017
Dero is proud to introduce new signage to help bicyclists find bike parking, bike repair, and air pumps around town. Whether it's on a college campus or along a trail, these signs will make it easy for folks to find what they are looking for. Choose from four signs: Bike Parking, Bike Repair, Air, and directional Arrow signs. The Bike Repair sign also includes a QR code that takes users to a map of known Dero Fixit repair stand installations in the area.
The signs are made from heavy-duty, 63 mil thick aluminum, and unlike steel signs, will not rust. They are printed with 3M outdoor digital ink designed specifically for outdoor traffic and parking signs for ultimate durability. They have rounded, burr-free corners, for longer life and a professional appearance and include large holes for easy mounting. With a rigid construction, the signs won't bend and have been proven to outlast the toughest of storms.
ABOUT DERO
Since 1995, Dero has been supplying innovative bike parking and bicycle transit solutions to architects, contractors, municipalities, higher education, and parks and recreation. Its bike racks, repair stands and pumps, shelters, and lockers are high quality, thoughtfully designed, and secure. Dero also offers the award-winning Dero ZAP, an automatic system to track bike commuters. Dero headquarters is located in Minneapolis and is proud to support biking locally and nationally.