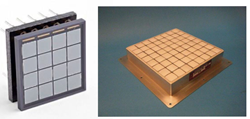 "Advances in technology and the progressive reduction in costs will lead to SiPMs being increasingly considered as an alternative to the traditional readout of scintillators by Photomultiplier Tubes (PMTs)", comments Senior Product Manager Juan Espinoza
San Rafael, California (PRWEB) March 23, 2017
Berkeley Nucleonics Corporation (San Rafael, CA) is introducing a higher resolution detector material to address demanding requirements of space-based astronomy missions. The new detectors, made possible by recent advancements in crystal growing techniques and next-generation silicon photomultipliers (SiPM), provide enhanced analytical capability while preserving a compact size and low power constraint, long considered the holy grail in devices engineered for space exploration.
The high resolution CeBr3 detectors are coupled with silicon photomultipliers in a strategic array pattern to allow detection of gamma rays with high stopping power and resolution several times better than traditional NaI detectors. "We customize each array for the application", comments Juan Espinoza, a Senior Product Manager for Berkeley. "Size, power limits, number or modules, array orientation, and even the mechanical mounting requirements are carefully considered for each assembly".
Recent industry advancements in Silicon Photomultiplier (SiPM) technology are producing low voltage option with a small footprint. SiPMs are mechanically compact and often combined into matrices or used for partial coverage of a scintillation crystal's surface. In addition to their compact size, SiPMs are immune to magnetic fields and can be operated in temperatures up to 60° C. CeBr3 scintillation crystals are characterized by their high resolution (~4% FWHM at 662 keV), fast decay time, and low intrinsic background properties. With a background count of <0.001 c/cc/s in the AC-227 complex, CeBr3 presents a distinct advantage over other high resolution scintillators which suffer from this characteristic.
"Advances in technology and the progressive reduction in costs will lead to SiPMs being increasingly considered as an alternative to the traditional readout of scintillators by Photomultiplier Tubes (PMTs)", comments Espinoza. "We can now reach equal or better energy resolution for large volume scintillators using SiPMs as well."
When asked about the contributions of CeBr3 to research in astronomy, company President David Brown proclaimed "While our focus is quite different from our friends at Space-X, I think the idea of contributing to man's exploits into the stars resonates with the childhood wonder rooted in all men of my generation by NASA's early missions."
About the Company
Berkeley Nucleonics has supported the toughest requirements of the Nuclear R&D community for over 50 years. BNC's signal source electronics and isotope identification systems can be found deployed at every major lab and agency in the U.S. and across the world. In partnership with Scionix Holland, BNC also delivers a broad range of scintillation detection instruments with associated front-end electronics. Electronics can be integrated into the detector assembly or provided in plug-on configurations. Applications for the Berkeley Nucleonics / Scionix detector systems include: Medical, Health Physics, Military, Homeland Security, High and Low Energy Physics, Nuclear Physics, Geology and Mineral Exploration, Oil Industry, High Altitude and Space Science.