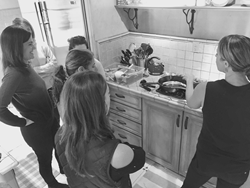 "We just don't have time like we used to with longer commutes and work hours,"
Long Island, New York (PRWEB) March 22, 2017
NY Food Writer, author and "Nibbles by Nic" host, Nicole Meyer is offering a Passover Food Workshop on Wednesday March 29th.
Passover is a Jewish holiday known for its wealth of foods and traditional enjoyments. The Seder dinner is the highlight of the week and one that brings family and friends together for a traditional meal. As more and more people work longer hours, the preparation for such a large holiday meal becomes more of a headache than a fun time with family. Nicole Meyer wants to help infuse fun back into the Passover Seder by showing people Passover friendly food ideas, preparation hints, and simplification tips that will help reduce time and headache.
"We just don't have time like we used to with longer commutes and work hours," says Meyer." Families have fewer hours to spend preparing for large meals and dinners. What I try to do with all my workshops is show people how to limit the number of ingredients, make more efficient use of time, and those tricks here and there that will enable them to create healthy flavorful foods."
Her Passover: Fuss Free & Fantastic workshop offers instruction in how to make an save dishes ahead of time, limited ingredient recipes, and décor and table setting ideas that will make the meal one to remember. From "Unstuffed Cabbage Stew," to "Potato–Spinach Kugel Cupcakes" and "Under 5-Ingredient Desserts."' Participants will learn easy to make, easy to buy for recipes that will build upon the ancient tradition with a modern twist.
"You rock Nic!!! Love it! Such an incredible Passover Event! You nailed it!!! Love love XO"
~Melissa
"Thank you so much Nicole you are awesome! Next week zucchini lasagna and sticky chicken on menu!!"
~Debra