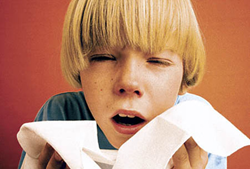 LA, California (PRWEB) April 04, 2017
Fresh Air Guide (FreshAirGuide.com), a recently-launched indoor air quality guide and advice blog is the brainchild of Finley Tatello - a pharmaceutical technician and lifelong allergy sufferer.
In his blog he offers a new resource for individuals suffering with poor indoor air quality not just through recommended products, but with practical advice regarding how to improve polluted air in the home. Currently, Fresh Air Guide features information and guidance on buying air purifiers, with the addition of more intuitive general advice on keeping a home's air clean and product reviews – including those of dehumidifiers, vacuum cleaners and heaters – coming in the near future.
"Fresh Air Guide represents one man's quest to provide guidance on how to rid our homes of life-sapping air pollutants," says "Fin," the creator behind Fresh Air Guide. "As a long-term sufferer of the dreaded allergies – horse, cat, dog, dust and hay fever to name a few – who has passed the affliction on to my children, I set about to provide better air quality in my home for my own family. I was willing to suffer quietly myself, but when it started to affect my kids, I said 'enough is enough.'"
Fin worked in the medical research sector, making him feel quite "at home" discussing and analyzing a myriad of medical equipment. He ultimately and cumulatively spent upwards of 100 hours researching all of the technology that is embraced by the air cleaning industry, and having lived in Beijing, China – which at the time and probably still to this day is responsible for churning out some of the most wretched polluted air on the planet – he understood the protocols involved in air quality analysis.
Fresh Air Guide's website is divided into three main sections, Buying Guides, Air Purifier Reviews and Comparison Chart, with the Buying Guides category encompassing such informative pieces as "10 Reasons Why You Need an Air Purifier" "What Does CADR and ACH Mean?" and "How to Choose the Right Size Air Purifier for Your Room" to name just a few.
Current Air Purifier Reviews under that category on FreshAirGuide.com include overviews on the Alen Breathesmart, IQAir HealthPro Plus, Whirlpool Whispure 510 AP51030K, Honeywell 50250s True HEPA and GermGuardian AC5350B Four-in-One True HEPA Elite. The Comparison Chart section of the website, meanwhile, enables viewers to compare many of the most popular air purifiers on the market and gauge their differences in order to find the right one for their exact needs.
"There are a plethora of so-called 'air cleaners' out there that simply do not pass the cut, including those that emit toxic odors, have efficiency levels which are downright disgraceful, come with replacement filter costs that are an absolute rip-off, promise untruthful or misleading specifications and more," concludes Fin. "Fresh Air Guide has garnered a reputation of being incredibly knowledgeable about air cleaning, and we put prospective products through their paces."
More information about Fresh Air Guide can be obtained by visiting https://www.freshairguide.com