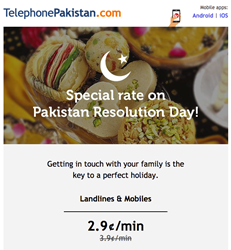 It helped me a lot! Fast, easy, reliable service! (Adil Khan on Trustpilot.com)
Atlanta, Georgia (PRWEB) March 22, 2017
TelephonePakistan.com, the platform dedicated to Pakistani expats worldwide, drops the rates on international calls to Pakistan on March 23, 2017. This is a way to celebrate Independence Day, as well as offers Pakistanis a chance to save on their calls home. The new rate to call landlines and mobiles is 2.9¢/min instead of 3.9¢/min, which is already a very small rate for an international call. The only condition to benefit of this gift is to have an account on TelephonePakistan.com and a PIN number on March 23, 2017. To get a PIN number, a newcomer needs to purchase a minimum $2 Voice Credit on the website: https://telephonepakistan.com/
The new rate of 2.9¢/min is only valid for Voice Credit customers on March 23, 2017. The rest of the time, a unique rate of 3.9¢/min applies on calls to Pakistan landlines or mobiles. Besides being a low rate on the global market, Voice Credit balance with TelephonePakistan.com never expires. Plus, loyalty points are added automatically on every purchase on the website, and later converted into free international calls. The biggest advantage of Voice Credit is also that it can be used anytime to call other destinations besides Pakistan.
International calls to Pakistan can be made with or without 3G, 4G or WiFi, and it is here that the service stands out. Besides KeepCalling app for calls to Pakistan, the service can be used in two more ways:
-Web Call app in one's account on TelephonePakistan.com helps to make calls from one's laptop to any phone in Pakistan, whether landline, old school mobile phone or smartphone.
-Access numbers work like calling cards, except there is no need to go to the store and the price is much lower. An access number helps initiate an international call without any Internet connection. One needs to get the access number in one's area from TelephonePakistan.com.
Outside the promotion, the lowest rate to call Pakistan is 2.9¢/min. This is available with any of the monthly plans. Pakistan 350 includes 350 minutes to call Pakistan for as low as $9.99 / month, Pakistan 500 makes available 500 minutes for as low as $14.49 / month. For talkative people, there is Pakistan 1000, that offers 1000 international calling minutes for $28.99 / month. All three calling plans offer a custom-made mix of calls to landlines and mobiles in Pakistan. The plans are also flexible. They can be activated, canceled and reactivated only by pressing one button in the account on TelephonePakistan.com, which is also free of contract or hidden fees. Pakistani can get instantly a plan to call Pakistan at 2.9¢/min.
Besides the calling service, TelephonePakistan.com also offers mobile credit transfers to mobile phones in Pakistan. The service is called Mobile Recharge, and anyone with an account on the website has it available in one's online account. The mobile top up is instant, and convenient, because it saves time and energy since the process is online and takes few seconds.Plus it is in a safe environment.
Many Pakistanis living overseas use the service for more than 10 years for several reasons:
-Its transparency and fairness, also certified by BBB
-Sound quality
-Small rates
-Easy online transaction
-Free features like Speed Dial, PINless, Auto-Recharge
-Online transactions and call history availability
-100% secure service as guaranteed by "Verified & Certified"
-24/7 human Customer Service
-Seasonal promotions
-Thank you points loyalty program
-No hidden fees.
The recent rate decrease comes at the right moment, on March 23, Independence Day, so Pakistanis abroad can call their families in the motherland and talk more, while saving money on their international phone bill.
TelephonePakistan.com is a mobile-friendly website dedicated to the Pakistani diaspora in the USA, Canada, Australia, Asia and Europe. The service is a brand of KeepCalling, a global telecommunications company registered in 2002 in the USA. Presently, KeepCalling provides its services to hundreds of thousands of consumers and businesses, with a focus on customer satisfaction and transparency of service. KeepCalling was listed by Inc 5000 as one of the fastest growing companies in the USA for 5 consecutive years.