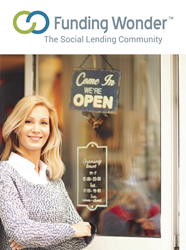 Funding Wonder's crowdfunding marketplace was created to present franchise investments like Dental Fix RX to private investors.
New York, NY (PRWEB) March 23, 2017
Funding Wonder Crowd, LLC, the operator of an online lending crowdfunding portal focused on small business loans, has posted a loan offering for the first business seeking debt financing on its lending marketplace. Funding Wonder was recently approved by FINRA (the Financial Industry Regulatory Authority) as a licensed Regulation Crowdfunding Portal. Anyone aged 18 or older can invest in a private debt securities offered on the Funding Wonder marketplace subject to certain investment limits.
Annapolis, Maryland entrepreneur Ryan Clark is a Dental Fix Rx franchisee, and the first to begin to secure financing through the franchise's partnership with Funding Wonder. Dental Fix RX is a fast-growing mobile dental equipment repair service franchise that delivers immediate, on-demand equipment service, hand-piece repairs and cost-effective consumable products through its network of trained franchise professionals.
Clark will be providing dental equipment repair services to dental practices throughout the Annapolis market. The funds raised will support the launch of his new Dental Fix Rx business, helping cover costs of training and buildout of his specially designed mobile service center van which allows him to service customers onsite.
"Funding Wonder's crowdfunding marketplace was created to present franchise investments like the Dental Fix RX franchisees to private investors," said Alan McGlade, COO of Funding Wonder. "Small businesses are the backbone of our economy and Crowdfunding Portals like Funding Wonder offer an alternative source to access capital that we hope will help them thrive."
Financing through Dental Fix RX' relationship with Funding Wonder is available to franchisees with $25,000 in liquid capital and a 670 credit score. The funding helps franchisees begin operations by covering several aspects imperative to launching a Dental Fix RX franchise – including the franchise fee, van buildout, working capital, training and training-related travel costs.
About Funding Wonder
FUNDING WONDER is an online Social Lending Community. It connects established small businesses looking for loans with investors seeking an asset class that returns principal and interest through monthly payments.