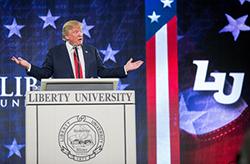 Lynchburg, VA (PRWEB) March 22, 2017
Liberty University is proud to announce that U.S. President Donald J. Trump will deliver the keynote address at Liberty University's Commencement on Saturday, May 13, 2017. Liberty University President Jerry Falwell provided details, following The White House's formal announcement of President Trump's participation.
The university has previously hosted one other U.S. President while in office, George H. W. Bush, at Commencement on May 13, 1990.
President Falwell said, "It is a tremendous honor and privilege for any university to host a sitting U.S. President, and we are incredibly grateful to have President Trump be a part of this historic day. Liberty has always been proud to provide its students with the opportunity to hear from successful professionals, including athletes, business leaders, ministers, entertainers, and politicians, regardless of their political or theological persuasion. This May, Liberty students will have the honor of hearing from a man who has succeeded in business and in politics, defying conventional wisdom to become the 45th President of the United States as a champion of the average American citizen, including many who felt forgotten and neglected by the establishment."
In an exclusive with CBN News, President Trump said, "I look forward to speaking to this amazing group of students on such a momentous occasion. Our children truly are the future and I look forward to celebrating the success of this graduating class as well as sharing lessons as they embark on their next chapter full of hope, faith, optimism, and a passion for life."
Commencement always provides a very exciting weekend for the entire Lynchburg community. 18,000 graduates from across the nation will receive degrees (from both residential and online programs). Total attendance of graduates and guests has approached 40,000 in recent years, packing Williams Stadium, home stadium of the Liberty Flames football team, which was recently promoted by the NCAA to its Division I, Football Bowl Subdivision. Liberty will be bowl eligible beginning in 2019.
Liberty is proud to be a place where academic freedom and free expression of all viewpoints is a priority over political correctness. Notable speakers in recent years include Ben Stein, Chuck Norris, Shannon Bream, Mitt Romney, Sen. Bernie Sanders, Stephen Curry, Gary Johnson, Jeb Bush, Randall Wallace, Mel Gibson, and Rashad Jennings. President Trump spoke at Liberty's Convocation in 2012 and in 2016.
About Liberty University
Liberty University, founded in 1971, is the largest private, nonprofit university in the nation, the largest university in Virginia, and the largest Christian university in the world. Located near the Blue Ridge Mountains on more than 7,000 acres in Lynchburg, Va., Liberty offers more than 550 unique programs of study from the associate to the doctoral level. More than 250 programs are offered online. Liberty's mission is to train Champions for Christ with the values, knowledge, and skills essential for impacting tomorrow's world.