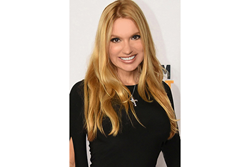 I have found great joy in joining my family in giving back to our community, our country, and the people who bravely defend us every day
(PRWEB) March 24, 2017
"Serving others is a family tradition that goes back many generations in my family, and often that service has included serving our country," said Meadow, referring to her great, great grandfather who was the first man killed in the battle of Murfreesboro (Tennessee).
"He left behind a pregnant, very young wife who took a mule, a wagon, and her very pregnant belly to claim her dead husband who had paid the ultimate sacrifice. She never remarried, spending her life honoring him and his fight for freedom. And for generations, my family has continued with a patriotic spirit, volunteering to make our country a better place for all," said Meadow.
On Thanksgiving, 2016, Meadow volunteered her time and money to bring hundreds of toys to the families of military personnel -- something that's been important to her for years. And at Christmas, she served hundreds of homeless people, many of whom are veterans, at a shelter near her hometown, baking decadent desserts to go with the Christmas meal and serving food to those who might not otherwise have a meal. She plans to continue donating her time and money to those in need, with a special focus on military families. She also donates to the Make-a-Wish Foundation and other causes near to her heart.
Meadow encourages others to join her in helping others in any way they can. "I have found great joy in joining my family in giving back to our community, our country, and the people who bravely defend us every day, and I look forward to spending more time doing my part to make the world a better place. Find what's important to you, and do what you can to help. You don't even have to donate money. Even a letter to a soldier can go a long way toward making someone's day better."
For more information about Meadow Williams, please visit her website at http://www.meadowwilliams.com.