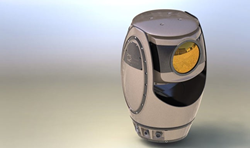 Boston, MA (PRWEB) March 29, 2017
The upcoming International Society of Optics and Photonics (SPIE) Defense and Commercial Sensing show in Anaheim, CA will see Electro Optical Industries' General Manager, Stephen Scopatz, give two different presentations on some of the exciting recent updates the company has produced.
The first presentation taking place on April 10th in the Thermosense XXXIX event will focus on the new capabilities of the Spynel 360° IR surveillance systems. Cyclope, the proprietary software associated with the Spynel systems, has been continually updated and improved over the last ten years since the systems have been deployed based on feedback from field operators. One added bonus option to the software, Hypervisor, allows users with multiple Spynel sensors on site to streamline all detection and tracking data on one single GUI to alleviate operator fatigue. From land and maritime applications, the possibilities for improved perimeter security from humans, vehicles, boats, UAVs, etc. at sites like airports, ports, borders, oil and gas rigs, prisons, nuclear plants, among others, are endless.
Another presentation, on April 12th, will showcase their latest innovative product, which performs the Veiling Glare Index Test, VGI 150. Veiling glare is a phenomenon that significantly reduces the quality of an image in camera systems as light enters an optical system and subsequently disperses, reducing the contrast of the dark and light areas. The VGI-150 provides a high contrast (>10,000:1) controlled black target surrounded by white light entering the lens at glancing angles. This distinctive design utilizes a sphere within a sphere to keep the overall size to less than 0.5 m diameter and two detectors; one to measure the dark target sphere and one for the white light level in the outer sphere (up to 20,000 ft-L). X-Y and Azimuth stages are included for the camera system to be adjusted for incoming glancing angles. While only requiring 12.5% of the volume to perform Veiling Glare Index measurements per ISO 9358 compared to other large spheres described in the standard, the small footprint allows for easy deployment on a production line and a lower cost overall.
As the world pioneer of electro optical test equipment for over fifty years, EOI also provides a wide variety of reference sources from visible to infrared sources to fit a diverse range of applications. Their diverse and unique product line spans from high performance infrared and visible solutions to accurately test and calibrate cameras and multi-spectral sensors for civil, industrial, and defense applications to their line of Spynel panoramic infrared cameras for purposes of wide area surveillance.
Electro Optical Industries will be at Booth # 526 from April 11th – 13th.
For more information on the SPIE conference and to view the complete schedule of presentations, visit: https://spie.org/conferences-and-exhibitions/defense--commercial-sensing
Copies of the paper being presented at SPIE Security + Defense 2017, in Anaheim are available for download post-conference: Stephen Scopatz - "Veiling Glare index measurements using novel small footprint test system" - Paper # 10209-34. Copyright 2017 - Society of Photo-Optical Instrumentation Engineers.