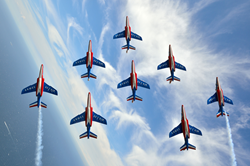 Melbourne, Florida (PRWEB) March 23, 2017
The French Air Force's Patrouille de France jet demonstration team will perform flyovers of New York City on Saturday, March 25 (at approximately 12 noon) and Washington, D.C. on Sunday, March 26 (at approximately 1 p.m.).
For the New York City flyover, the eight Alpha Jet formation will fly from the north down the Hudson River to just south of the Statue of Liberty with trailing red, white and blue display smoke on. They will make a second pass from south to north back up the river.
The Washington, D.C. flyover will have the team flying from east to west just south of the National Mall with trailing red, white and blue display smoke on.
The Patrouille de France, or French Aerobatic Patrol, is to the French Air Force what the Thunderbirds are to the U.S. Air Force. The Patrouille de France is visiting the United States during the month of April to commemorate the 100th anniversary of the U.S. entry into World War I on April 6th.
The city flyovers will occur while the team is en route to Melbourne, Fla. where it will perform at the 2017 Melbourne Air & Space Show, sponsored by Northrop Grumman, on April 1-2 at Melbourne International Airport. It will be the team's first U.S. performance in over 30 years.