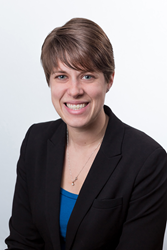 I look forward to being part of positive change in Division II as the NCAA looks to further enhance the student-athlete experience.
SPRINGFIELD, MA (PRWEB) March 23, 2017
American International College's (AIC) Assistant Athletic Director of Compliance and Senior Woman Administrator Jessica Chapin has been appointed to the National Collegiate Athletic Association (NCAA) Division II Management Council through January 2021. As part of her commitment Chapin will serve on two committees; the NCAA Research Committee and the Committee on Infractions.
The Management Council is charged with recommending administrative policy and regulations that govern the Division. The Management Council reports directly to the President's Council, and implements the policies adopted by the Association's Board of Governors and Division II President's Council. The Management Council may sponsor legislative proposals, make interpretations of Division II's bylaws, and may also handle resolution of Division II issues and recommendations from other committees and working groups throughout the Division's substructure.
The Council is comprised of Division II chief executive officers, faculty athletics representatives, athletic directors, senior woman administrators, conference representatives and student-athletes. At least two members, except student-athletes, shall represent each DII geographical region. Currently 29 members strong, Chapin joins the Council as a senior woman administrator.
"Not only am I honored to have been appointed, through my appointment to the Council, AIC will now be featured on a national level. I look forward to being part of positive change in Division II as the NCAA looks to further enhance the student-athlete experience," says Chapin.
According to AIC President Vince Maniaci, "Jess Chapin is a tremendous young administrator with an extremely bright future. Serving on the NCAA Management Council will be an excellent opportunity for her to assist in impacting Division II collegiate athletics in a positive way. Jess will represent AIC with grace and professionalism and will prove to be a critical member of each committee on which she serves."
Founded in 1885, American International College (AIC) is a private, co-educational, master's institution located in Springfield, Massachusetts. AIC is an interfaith, interracial, and international educational institution with the School of Business, Arts & Sciences, the School of Health Sciences, and the School of Education. AIC supports and advances education, diversity, and opportunity for its students and the community. More information is available online at http://www.aic.edu.