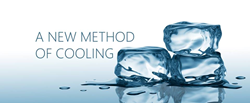 Technology solutions aimed at cost savings.
(PRWEB) March 23, 2017
Autry Industrial's breakthrough technology, Cycle Two73, recycles waste heat, which is otherwise dumped into the atmosphere, to power a uniquely efficient cooling process. The cooling process requires no power from the host facility; instead, Cycle Two73 can actually provide auxiliary power back to the facility. The technology is completely reinventing the way industries treat their excess heat. Cycle Two73 is scalable to suit any operation that produces excess heat and robust enough to dramatically reduce operating and maintenance costs for power plants, data centers, and manufacturing processes.
In terms of efficiency, Cycle Two73 consistently outperforms existing cooling technologies. Cooling for U.S. power plants alone requires 161 billion gallons, or 45% of total U.S. freshwater withdrawals, per day. Unlike cooling towers, Autry Industrial's unprecedented technology consumes no water. Other dry-cooling methods exist, but Cycle Two73's cooling efficiency is far superior to that of its competitors. For example, data centers attribute up to half of their total energy consumption to cooling. Considering data centers consumed 70 billion megawatts of electricity in 2014 alone, large scale adoption of Cycle Two73 stands to significantly reduce the industry's overhead. With its unprecedented energy conservation potential, its independence of consumable resources, and the flexibility to be implemented where competing technologies simply cannot fit, Cycle Two73 is poised to change the landscape of industrial cooling.
Cycle Two73 is the result of six years of research, and an absolute refusal to settle for another incremental improvement to existing technologies. In the words of founder and CTO, Garret Autry, "Our mission is to improve the world around us. By challenging convention and maintaining an intimate connection with industry, we will provide the best products and services on the planet. For now, we focus on cooling." CEO of Autry Industrial, Dorriah Rogers, describes the company vision as one to create "Technology solutions aimed at cost savings." The company delivers big with a solution which, by all indications, will dramatically reduce operating costs wherever implemented.