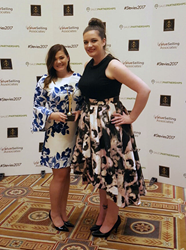 I believe our true strength is having a close-knit team that is able to troubleshoot on the fly and work across other teams to find a solution.
Troy, MI (PRWEB) March 23, 2017
Billhighway's core value of "Customer Commitment 365" is the backbone of their business model. At the end of the day, the customer comes first, which is supported with their over 96% customer loyalty rate. Not many companies can claim that. This is only one of the many reasons why the company was awarded the Gold Stevie® Award for Innovation in Customer Service – Financial Services Industries, which was announced at the eleventh annual Stevie Awards for Sales & Customer Service. This marks the third win for Billhighway since 2013.
The Stevie Awards for Sales & Customer Service are the world's top honors for customer service, contact centers, business development, and sales professionals. The Stevie Awards organizes several of the world's leading business awards programs, including the prestigious American Business AwardsSM and International Business AwardsSM.
The awards were presented during a gala banquet on Friday, February 24 at Caesars Palace in Las Vegas, Nevada. More than 650 executives from around the world attended.
Billhighway Client Care Team Leader, Kimberly Ng, states, "I am extremely proud of our Client Care team. Receiving the Stevie Gold just reinforces what Billhighway sees from Client Care every day - creativity, innovation and absolute dedication to our clients."
Billhighway's dynamic Client Care team is on the front lines day in and day out, to ensure that clients are not only satisfied, but their expectations are exceeded. In fact, the average star rating on their customer service surveys has increased from 4.73 to 4.87 (out of 5) over the past year.
The Billhighway Client Care team operate as full-fledged problem-solvers, focused on customer happiness and providing that extra level of "wow" at each touchpoint.
Customers who contact them with questions:

Reach a live person, based in Troy, Michigan, by pressing a single number – two at most
Can talk or exchange emails with people who don't use scripts, canned responses or templates
Interact with experts whose goal is not only to answer questions, but to ensure customer happiness
In order to maintain their 96% customer retention, Billhighway ensures that customers are not on hold for more than two minutes, and emails are answered within one business day.
Client Care is also responsible for customized training that may include a combination of in-person, learning management system (LMS), or webcast training. The LMS is used to create training videos and interactive software simulations, and offers clients the flexibility to access material 24/7 via an online portal.
An innovative approach sets this team apart. They are always looking for ways to inject fun and delight into the customer experience. Last December, incoming callers were serenaded over the phone with holiday favorites including "All I Want for Christmas is You," "Santa Baby," and the "Hanukkah Song."
Billhighway values professional development and offers a Strides program, aimed at recognizing achievements in Client Care as well as a unique career development program that allows each Client Care team member to work four days every week in Client Care and one day each week in another area of the business on projects and tasks that align with a future role. This sets them up for success with the skills they need to apply for new positions that open up. Client Care team members frequently transition into other roles with teams they have trained with, successfully bringing a service-oriented mindset with them.
"I believe our true strength is having a close-knit team that is able to troubleshoot on the fly and work across other teams to find a solution. We pride ourselves on being able to solve a problem and provide our customers with answers to questions that they might not know they have yet. We hire people that go the extra mile whether it's handling a difficult customer situation or delivering top-notch training to new administrators," said Sarah Carson, Client Care Associate.