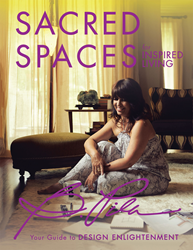 MIAMI (PRWEB) March 27, 2017
A Miami-area author has released a book that intertwines interior design aesthetic with spiritual guidance for readers who want to make their homes both more beautiful and more livable. "Sacred Spaces for Inspired Living," by award-winning interior designer Bea Pila, offers insight into her own spiritual design journey and provides seven-step guidance to readers who are seeking "Design Enlightenment."
As a young girl, Pila recalls arranging her family's furniture and redesigning her own bedroom, in which she quickly learned how design has the power to transform the way living spaces are incorporated into and used in everyday life. Many times, this meant forgoing conventional notions of interior design in favor of applying highly personalized approaches uncovered from a deep introspective process.
After decades of applying this passion to her interior design practice, Pila felt compelled to write "Sacred Spaces for Inspired Living" so that she could pass on her professional expertise to readers while also candidly encouraging them to define and integrate a more soulful approach to their own homes.
"I've found that we are often influenced by style and trends as the main determining factors in creating our interiors," Pila said. "By shifting our conditioned beliefs, we can create spaces that truly satisfy our soul, which leads to much deeper satisfaction that style alone can have."
With personal stories, large, colorful photographs, helpful questionnaires and tips for gathering design ideas, Pila's book emphasizes each area of design and provides a comprehensive guide to reimagining a space. She encourages readers to actually use their rooms, highlighting the importance of truly living in a home.
"Sacred Spaces for Inspired Living"
By Bea Pila
ISBN: 978-1-50436-420-1 (paperback); 978-1-50436-421-8 (electronic)
Available at the Balboa Press Online Bookstore, Barnes and Noble and Amazon
About the author
Bea Pila is an award-winning interior designer and has been transforming spaces for more than 30 years. Pila is married with two children and, in her free time, she enjoys writing, sketching, dancing ballet and cooking for her large family. To learn more, visit http://bpiladesign.com/.
###
Review Copies & Interview Requests:
LAVIDGE – Phoenix
Danielle Grobmeier
480-998-2600 x 614
dgrobmeier(at)lavidge.com
General Inquiries:
LAVIDGE – Phoenix
Kalin Batts
480-998-2600 x 524
kbatts(at)lavidge.com