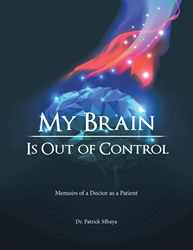 MANCHESTER, U.K. (PRWEB) March 27, 2017
A medical doctor specializing in psychiatry has released his intimate memoir about his diagnoses with and journey through recovery from a devastating brain infection. In "My Brain Is Out of Control," Dr. Patrick Mbaya chronicles the physical, neurological and psychiatric complications brought on by the infection and offers a personal and empathetic viewpoint on patient care.
Through his detailed first-person account, Dr. Mbaya takes readers through the ups and downs of being on the other side of the hospital bed and pays particular attention to his experience battling clinical depression. According to the Anxiety and Depression Association of America, clinical depression affects more than 15 million Americans per year.
"It is unique to be a medical doctor specializing in psychiatry who also has suffered from a brain infection," Dr. Mbaya said. "Ultimately, my depression symptoms made me understand and empathize with my patients on a deeper level."
"This is an excellent book that will be of value to anyone who wants to gain a better understanding of what it is like to experience a brain disorder such as an abscess, stroke or encephalitis," a reviewer from the British Association for Psychopharmacology wrote about the book. "…His positive outlook through adversity, and his recovery, make it an inspiring account that should give hope to patients and families dealing with similar illnesses."
In "My Brain Is Out of Control," Dr. Mbaya discusses the clinical conditions he suffered in clear, simple terms, enabling non-medical field readers to easily access the book and its messages. The book also provides rare insight into patient care as it specifically relates to psychiatric issues.
"My Brain is Out of Control"
By Dr. Patrick Mbaya
ISBN: 9781524664190 (paperback); 9781524664183 (electronic)
Available at the AuthorHouse Online Bookstore, Barnes & Noble and Amazon
About the author
Dr. Patrick Mbaya is a medical doctor specializing in psychiatry with special interest in mood and addiction disorders. He currently resides in the United Kingdom, where he is a consultant psychiatrist and honorary clinical lecturer at the University of Manchester.
###
Review Copies & Interview Requests:
LAVIDGE – Phoenix
Danielle Grobmeier
480-998-2600 x 614
dgrobmeier(at)lavidge(dot)com
General Inquiries:
LAVIDGE – Phoenix
Maggie Driver
480-998-2600 x 584
mdriver(at)lavidge(dot)com