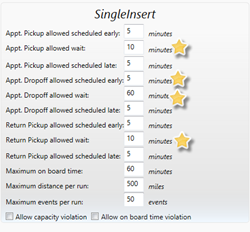 Now scheduling rules, also known as Scheduling Parameters can be defined per payer or Funding Source. This allows our clients to stay compliant with the specific requirements of their customers. Says Founder of Schedule Viewer LLC, Steve Smith.
Phoenix, Arizona (PRWEB) March 28, 2017
Schedule Viewer is excited to announce the general release of their new Enhanced User Defined Violation Sets to the core offerings in its MediRoutes non-emergency medical transportation software. These User Defined Violation Sets allow clients to set unique scheduling restrictions within the scheduling protocols to meet the requirements of the specific passenger or group of passengers. Examples are as follows:

A NEMT provider might be contracted with several different brokers and each broker has their own set of rules that must be applied to a passenger. One broker allows a passenger to be picked up 15 minutes early and the other allows a passenger to be picked up 30 minutes early. The volition sets can be set to know the difference and allow for those restrictions when the optimized schedule is created.
A NEMT provider may be transporting both adults and school children. The school children can only be transported with other school children and they cannot be dropped off early because school does not start until 8:30 AM. The adults may be dropped off early to their appointments. The software knows both of these restrictions and will allow for them when the optimized schedule is created.
A special needs passenger cannot be in the same vehicles with any other passenger. The medical transportation software will ensure that this restriction is honored.
The MediRoutes application by Schedule Viewer, LLC is a cloud-based software used with mobile technologies to offer optimal scheduling, booking, dispatch and billing services for non-emergency transportation providers. Using these state-of-the-art tools, MediRoutes offers easy online call taking – either trip booking through the import of brokerage trips or direct entry of on-demand trips. MediRoutes offers optimized scheduling – taking into account the patient requirements (ambulatory, wheel chair, or stretcher needs) and appointment time, the transport vehicle's capacity, the drive time, and funding source requirements or limitations.
MediRoutes provides real-time dispatching and sends the driver's manifest to driver's mobile device with the GPS location of each vehicle and the driving time and distance to scheduled pickups and drop offs. Real-time updates to the drivers and the dispatchers show where the drivers are at all times using medical transportation software. In addition, the GPS coordinates and time stamps of each pick up and drop off, with the passenger's signature captured at the time of service, helps everyone stay on track.
Schedule Viewer, LLC is a software company, founded in 2008 that develops cloud based medical transportation software solutions. The founding members bring over 50 years combined experience in developing medical transportation software and have a history of producing innovative and transformative solutions.
The mission of Schedule Viewer is to produce industry-leading, affordable and easy to use non-emergency medical transportation software. Using the latest technology coupled with customer driven innovation and excellent support, our goal is to empower our customers: transportation providers and brokers, to be profitable growing businesses giving excellent service to their patrons, the riding public.
The Internet, mobile devices and most recently "cloud" computing technologies have dramatically changed the nature of software development and deployment. As a forward looking software company, Schedule Viewer is innovating using these new platforms unencumbered by "legacy" systems to maintain and support.
Because of that, MediRoutes is a ground breaking product, built from the beginning using proven, standard tools and designed to be deployed in the cloud. It features a full range of scheduling/dispatching solutions that are affordable and easy-to-use. To learn more about Schedule Viewer, LLC, or the MediRoutes product, please call (480) 393-3009, toll free at (855) 393-3009 or email info(at)scheduleviewer(dot)com.
Schedule Viewer has created practical solutions to an unsolvable problem – to learn more please visit our web site at http://www.scheduleviewer.com.