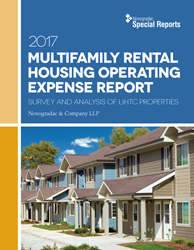 "This analysis provides great insight and interesting details about operating multifamily rental real estate."
(PRWEB) March 27, 2017
Operating expenses for low-income housing tax credit (LIHTC) properties grew 1.25 percent in 2015 and rents grew 0.85 percent, on a year over year basis, and expenses grew at a compounded annual rate of 2.42 percent and rents at 1.44 percent from 2010 through 2015, according to a report released by Novogradac & Company LLP. The 2017 edition of the report, "Novogradac Multifamily Rental Housing Operating Expense Report–Survey and Analysis of LIHTC Properties," also revealed that the cost of operating acquisition-rehabilitation properties in 2015 was $902 per unit higher than new-construction properties; nearly double the higher cost of $477 per unit in 2010.
"This analysis provides great insight and interesting details about operating multifamily rental real estate, and it also informs property managers about what to expect in different situations," said H. Blair Kincer, MAI, CRE, a partner in the metro Washington, D.C., office of Novogradac & Company LLP. "For example, data shows that the median total expenses per unit for acquisition-rehabilitation properties grew at a higher rate during the time period than did new-construction property. In the same way, metropolitan-area expenses grew every year, while non-metropolitan areas actually dropped during some years. That data can help inform planning for developers, investors and property managers."
To provide insight into national and regional operating expense trends, Novogradac & Company LLP collected data, categorized the data based on accepted operating expense line items and analyzed the information. The report uses data from more than 1,400 properties that include more than 170,000 individual apartment units to illustrate how rental housing properties' expenses differ over time, as well as by property size, type and location.
The Novogradac & Company LLP report found that LIHTC properties reserved for seniors had higher incomes and lower operating expenses than family LIHTC properties, but the gap between them closed during the time studied. The report also found that properties with fewer than 50 units had 9 percent more in total median expenses per unit than those with 100 to 199 units, largely due to economy of scale issues.
"This report confirms a lot of conventional industry wisdom about affordable housing expenses," said Michael J. Novogradac, CPA, managing partner in the firm's San Francisco office. "But the findings go deeper than that, providing regional and national trends, as well as insight on different property types. This is a great benchmarking tool for LIHTC developers, investors, property managers and others."
For more details and a copy of the report, go to http://www.taxcredithousing.com. Novogradac & Company LLP is available to benchmark developer, syndicator and investor LIHTC portfolios and individual properties to its database of operating results. To learn how benchmarking can aid in assessing performance and identifying areas of potential improvement, contact Blair Kincer at (240) 235-1701.
Novogradac & Company LLP began operations in 1989 and has since grown to more than 600 employees and partners with offices in San Francisco, San Rafael, Walnut Creek and Long Beach, Calif.; Dover, Columbus and Cleveland, Ohio; Austin and Dallas, Texas; Toms River and Iselin, N.J.; St. Louis; Boston; New York; Chicago; Portland, Ore.; Naples, Fla., Raleigh, N.C.; and the greater metropolitan areas of Philadelphia; Washington, D.C.; Atlanta; Detroit; Kansas City, Mo.; and Seattle.
Specialty practice areas include tax, audit and consulting services for tax-credit-assisted affordable housing, community revitalization, rehabilitation of historic properties and renewable energy. Other areas of expertise include business valuation, preparation and analysis of market studies and appraisals of multifamily housing and renewable energy investments.
For additional information on Novogradac & Company LLP's personnel and areas of expertise, visit http://www.novoco.com or call (415) 356-8000.