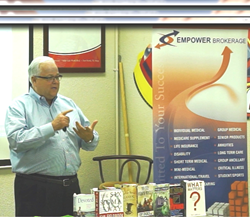 With this training, we ensure agents not only understand how the program works but also how best to approach prospective clients.
Southlake, Texas (PRWEB) March 24, 2017
Empower Brokerage, located in Southlake, Texas, intends to make 2017 the year of enhancements, upgrading their training and leads programs.
In February, 2017, Empower Brokerage introduced their new "Performance Partners" program to the Empower University. Reserved for elite sales agents, Performance Partners is designed to teach how to maximize their sales efforts, as well as how to best represent some of the best carriers in the senior health industry.
After releasing the Performance Partners class, Empower Brokerage added a Leads Program Prerequisite course the following week. Whether new or experienced, agents benefit from training conducted by DeWayne Long, the National Sales Director at Empower Brokerage, who has over 30 years of experience in the health and life insurance business. With his wealth of knowledge and experience, Long instructs agents on how best to work the leads provided by Empower Brokerage.
"Not one agent I've talked to recently has confidently told me they are working the leads properly," commented Long. "With this training, we ensure agents not only understand how the program works but also how best to approach prospective clients."
According to Long, thoroughly working a lead involves asking five questions. Essentially, the questions function as a needs-based analysis that determine what products a client truly needs. Instead of pushing one product type, Empower Brokerage urges agents help clients in multiple ways, whether it's health insurance or life insurance.
"Empower Brokerage strives to help agents best serve their clients. That's why this training is essential; agents need to know what to ask prospective clients in order to help them effectively. Failing to ask these questions not only results in a missed opportunity for the agent, but it's a disservice to the client," said Long.
While Empower has expanded their online university by adding two new courses, they have also improved existing classes. For instance, the Medicare Supplement Pre-Set Appointment Leads Training was revised March 15th. Long – in collaboration with William Bronson, the Marketing Director at Empower, and Andrea Hektner, the Marketing Specialist – covers the ins-and-outs of the tele-marketed pre-set appointment leads program.
Hektner claimed that the class, released over a year ago, was simply outdated. "As the program grew and improved, the training also needed to undergo improvements."
Unlike the previous version, the new edition simulates a typical phone call made by a telemarketer, providing valuable insight into what it should sound like and how the caller interacts with the prospective client before setting the appointment. Knowing how the leads are acquired will better enable agents to prepare and anticipate client needs. Additionally, the training includes an interactive questionnaire that tests whether an agent understands how to react to certain situations. The system was designed to track student progress, provide necessary metrics to the instructor, and allow the students to take the classes in intervals. "Chopping up the content allows it to be more readily absorbed and utilized by the agents", said Bronson.
As Hektner mentioned, Empower Brokerage added new and improved training courses to accommodate for their growing leads programs. Most recently, Empower Brokerage has introduced a new leads delivery system, called LeadServ. Instead of receiving leads through several different channels, agents can now access and manage their leads in one centralized location on Empower's agent portal.
Bronson comments, "LeadServ is Empower Brokerage's proprietary software application built right into our website back office. It serves timely leads to our agents, who participate, and they can set a variety of statuses, keep notes, and manage the processing of prospective clients all in one place. LeadServ is flexible enough to provide real-time metrics to specific managers, for defined groups of agents, anywhere in the world. It's very satisfying to see its completion. I designed it to be powerful, insightful, and with the necessary framework to be expanded in the future."