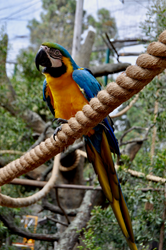 This progressively-designed aviary gives these highly-intelligent animals as much choice and control over their environment as possible
Oakland, CA (PRWEB) March 23, 2017
Oakland Zoo has unveiled a brand-new aviary exhibit designed to encourage species-specific, natural behaviors in the birds housed within. The exhibit took several months to design and build, with architects and zookeepers consulting extensively with field experts in avian behavior and physiology.
The Zoo's four macaws have been moved into the exhibit, which is 219,000 cubic feet – substantially larger than their old exhibit, which was 1,800 cubic feet. Two curassow were also added to the exhibit, a new species to the Zoo. The macaws and curassow were chosen to share the exhibit as they are both native to the same general area of South America and inhabit different layers of the rainforest. Curassow are ground-dwellers while macaws remain higher above.
"This progressively-designed aviary gives these highly-intelligent animals as much choice and control over their environment as possible, which is important to their mental and physical well-being. It also provides a platform to talk about the extreme challenges of keeping parrots as pets, the exotic pet trade, and how choices we make can affect populations in the wild. This exhibit is one of best examples I've seen of giving former pet parrots, as our parrots at Oakland Zoo are, the best possible future," Leslie Storer, Zoological Manager at Oakland Zoo.
Traditionally and generally speaking, captive macaws are exhibited standing on perches and then moved into large cages at nighttime. Most often they are not given the opportunity to fly. This new, expansive and progressive exhibit provides plenty of space for the birds to fly, if they so choose, with protection (vinyl-coated mesh) from predators in the wild. With this protection, they can choose to enter their nighthouse in the evenings, or remain inside the exhibit on warm nights. The design also allows them to choose to socialize with each other, and the open space to choose not to socialize.
Water sources and heat lamps provide the birds the climate and natural bathing behavior typical of these avian species. Introducing additional new species-specific birds in need of placement from local rescue organizations, and those confiscated from the illegal wildlife trade, are being considered. Zookeepers have worked diligently to demonstrate the many needs of macaws, emotionally and physically, through signage at the exhibit and through the exhibit itself, for anyone considering a parrot as a pet.
ABOUT OAKLAND ZOO:
The Bay Area's award-winning Oakland Zoo is home to more than 700 native and exotic animals. The Zoo offers many educational programs and kid's activities perfect for science field trips, family day trips and exciting birthday parties. Oakland Zoo is dedicated to the humane treatment of animals and wildlife conservation onsite and worldwide; with 25¢ from each ticket donated to support conservation partners and programs around the world. The California Trail, a transformational project that more than doubles our size, opens in 2018, and will further our commitment to animal care, education, and conservation with a focus on this state's remarkable native wildlife. Nestled in the Oakland Hills, in 500-acre Knowland Park, the Zoo is located at 9777 Golf Links Road, off Highway 580. The East Bay Zoological Society (Oakland Zoo) is a nonprofit 501(c)3 organization supported in part by members, contributions, the City of Oakland and the East Bay Regional Parks. For more information, go to: http://www.oaklandzoo.org