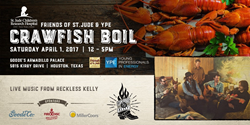 Houston, TX (PRWEB) March 22, 2017
FireDisc® Co-Founders, Griff and Hunter Jaggard, have set a strong example to their team on the importance of giving back. They are proud supporters of the National MS Society, having just raised $1 Million via their "Team Carney Men" and achieving a Top Member Fundraiser Spotlight. They also support local volunteer fireman, Halter, Inc., the National Breast Cancer Foundation Inc. and Bridges to Life, Lone Survivor Foundation, yet they also don't forget about the local community surrounding them. On April 1st, 2017 they are teaming up with like-minded community support advocates and musicians, Reckless Kelly, for the 9th Annual Friends of St. Jude and YPE Crawfish Boil, taking place at Houston's Goode's Armadillo Palace.
Event Details:
April 1, 2017
12:00 – 5:00 pm
Goode's Armadillo Palace
5016 Kirby Drive
Houston, TX
Tickets:
Tickets include Crawfish, beer and entertainment by Reckless Kelly
Early Bird: $40.00
At the Door: $60.00
For more information, contact Audrey Luttman Audrey.luttman(at)stjude(dot)org
FireDisc® will also be offering the chance to win a limited edition Reckless Kelly and FireDisc® co-branded Portable Cooker to a lucky event attendee. The FireDisc® was designed with outdoorsman in mind and features black powder coating, a collapsible, mobile design, sturdy carbon steel construction, and can dish out a delectable rendition of whatever is thrown in it to cook.
FireDisc® and Reckless Kelly have collaborated on other community events such as the Reckless Kelly Celebrity Softball Jam, a signature event uniting friends from the worlds of music and sports to benefit Austin's youth. In eight years, the Softball Jam has raised over $300,000 for area youth leagues. The Softball Jam and Crawfish Boil collaborations are just a few of the many community initiatives FireDisc® and Reckless Kelly enjoy supporting.
About St. Jude Children's Research Hospital:
The mission of St. Jude Children's Research Hospital is to advance cures, and means of prevention, for pediatric catastrophic diseases through research and treatment. Consistent with the vision of founder Danny Thomas, no child is denied treatment based on race, religion or a family's ability to pay. St. Jude Children's Research Hospital is leading the way the world understands, treats and defeats childhood cancer and other life-threatening diseases. Unlike other hospitals, the majority of funding for St. Jude comes from individual contributions. Thanks to generous donors, families never receive a bill from St. Jude for treatment, travel, housing or food – because all a family should worry about is helping their child live. https://www.stjude.org/
About Reckless Kelly:
Austin-based, Reckless Kelly (name inspired by Australian bushranger Ned Kelly) is Americana/Roots Rock at its finest with 9 albums and counting. Led by brothers, Willy (vocals/guitar) and Cody (vocals/fiddle/mandolin/harmonica), the Brauns had previously toured with their father in Muzzie Braun & the Boys, a Western swing band. Ultimately they formed their own group, folding in lead guitarist Casey Pollock, bassist Chris Schelske, and drummer Jay Nazz.
The band played locally on historic Sixth Street in Austin in renowned venues including Stubbs Barbeque, Saxon Pub, Antone's Home of the Blues and a small bar/restaurant called Lucy's Retired Surfers Bar, which they turned into a noted music venue. Reckless Kelly's debut album, Millican, appeared in the fall of 1997 and was officially released in 1998. Acoustic: Live at Stubb's and The Day both followed two years later, after which David Abeyta replaced Pollock on lead guitar. Under the Table and Above the Sun from 2003 began the band's relationship with the high-profile Sugar Hill label and won the hearts of the music press and honky tonkin' legend Joe Ely, who sang the band's praises in interviews. Wicked Twisted Road was released in 2005, and the next year the live album Reckless Kelly Was Here captured the band's stage presence. Bulletproof was released in the summer of 2008 on a new label, Yep Roc Records. In 2010, Reckless released an album of songs by one of their musical heroes, Pinto Bennett. Somewhere in Time, in the band's own words, highlighted their love of "straight-up honky tonk." The band regularly returns to Austin to play before capacity crowds at venues like Nutty Brown Cafe & Amphitheatre.
http://www.recklesskelly.com
About FireDisc®:
Texas-based FireDisc® specializes in the design and manufacturing of the world's most innovative, high-quality and versatile portable outdoor cookers and accessories. The company was founded by two entrepreneurial brothers, Griffin and Hunter Jaggard, who, armed with a makeshift tractor plow disc set out on a mission to build a cooker worthy of everyone from the world's top chef's to hunters, backyard family grill masters, tailgaters and campers. FireDisc® Cooker products are currently sold nationally and online throughout the globe.
Heavy-duty ultra-high carbon steel construction render the cookers indestructible, while meticulous designs yield convenient portability and ease-of-use. A rigorous "Chef-tested/Chef-Approved" quality assurance program enables the cookers to deliver unmatched cooking characteristics, as they have been vetted by some of the world's leading chef's. Prior to their launch of FireDisc® Cookers, the founders formed a non-profit to raise money and find a cure for Multiple Sclerosis. To date $1M has been raised via "The Carney Men" Bike MS team. For more information, visit http://www.firedisccookers.com.