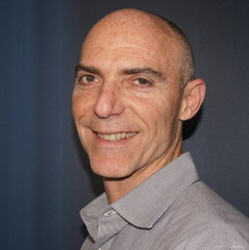 [Larry's] recent experience with current AI technologies in building Fluid's XPS retail conversation application will be invaluable as Sparkcentral expands its messaging capabilities.
San Francisco, Calif. (PRWEB) March 23, 2017
Sparkcentral, the leading enterprise mobile and social customer engagement platform, today announced that software engineering expert Larry Bernstein has joined its leadership team as chief technology officer. With nearly three decades of experience in technology engineering and leadership at enterprise software companies like Fluid XPS (acquired by IBM), Demandbase and Crossworlds Inc, Bernstein is well-positioned to oversee Sparkcentral's product expansion.
With Sparkcentral, customer-centric brands like T-Mobile, Netflix, Uber, Delta Airlines and Western Union are able to quickly and efficiently address customer inquiries directly within popular communications channels – from Messenger to in-app messaging to Twitter. Under Bernstein's leadership, Sparkcentral aims to further expand its customer service and engagement solutions to help its enterprise clients exceed the expectations of today's hyper-connected customers.
"Larry's addition to our executive team greatly enhances our technology development strategy to become the world's most valuable customer engagement and support platform for global companies," said Davy Kestens, founder and CEO at Sparkcentral. "Larry's solid background in scaling technology companies will be instrumental in scaling Sparkcentral's platform to meet the growing needs of our customers today and into the future. Furthermore, his recent experience with current AI technologies in building Fluid's XPS retail conversation application will be invaluable as Sparkcentral expands its messaging capabilities."
In his new role, Bernstein will apply his engineering expertise to lead product development in support of Sparkcentral's mission to help enterprise companies provide low-effort customer support and engagement across constantly-evolving digital channels. Bernstein is charged with increasing Sparkcentral's ability to empower companies with greater internal efficiencies across globally dispersed support teams and provide those companies with actionable data and insights from customer interactions.
"Consumers today have the ultimate power to build up or tear down brands by simply sharing their experiences online, making customer interactions and the level of support companies provide critical to success," said Bernstein. "I am excited to join Sparkcentral's executive team and look forward to leading the charge in expanding and developing the solutions companies need to engage customers within their channels of choice, with the exact information they need, in real-time."
Most recently, Bernstein served as vice president of product development at Fluid, a software company that helps retailers personalize the online shopping experience. In his role, Bernstein led product development for Expert Personal Shopper (XPS), a platform that leverages artificial intelligence to converse with customers online as they shop. IBM acquired XPS in late 2016.
Following its recent $20 million growth investment, Sparkcentral expects to triple its global team this year to support its growth and expanding client roster with new product enhancements.
About Sparkcentral
Customer-obsessed companies use Sparkcentral's leading mobile and social customer engagement platform to manage and resolve customer service interactions over social and mobile channels in a simple, streamlined and fun way. With the fastest customer routing and prioritization technology in the business and innovative workflow optimization and reporting tools, Sparkcentral helps global brands like T-Mobile, Delta Air Lines, Uber, Nordstrom, JetBlue and Zappos deliver effortless customer service experiences and drive brand loyalty. A recent CODiE Award winner for Best Customer Service Solution, Sparkcentral is headquartered in San Francisco, CA and has its EMEA headquarters in Hasselt, Belgium. To learn more, visit http://www.sparkcentral.com and follow @Sparkcentral on Twitter.