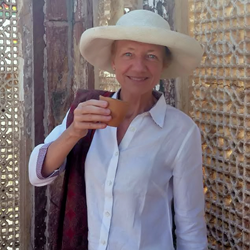 Visit fewer places and spend more time in each for a truly rewarding experience
New York, NY (PRWEB) March 23, 2017
A lot has changed since ExpertFlyer first spoke with author and travel expert Louise Nicholson in 2015 about all the wonders of India (ExpertFlyer Hot Topic). The most notable change, however, is the drastic improvement in the country's transportation infrastructure and hospitality amenities that have expanded the possibilities in an already expansive country.
With an unwavering love and appreciation for a country with vast and unique cultural attractions, history and a landscape covering 1.2 million square miles and home to more than 1.2 billion people, Nicholson's mantra is consistent: Less is more when visiting India. "Visit fewer places and spend more time in each for a truly rewarding experience." While Mumbai, Udaipur, Jodhpur, Nagaur, and New Delhi remain highly recommended destinations, a new crop of fascinating locations are now easily accessible to millions of travelers. ExpertFlyer caught up with Ms. Nicholson following a tour through Central India to discuss some of these newly-uncovered gems.
"Thanks to India's manic road building and improvements in local accommodations, I have a few new favorite destinations in India," explains Louise Nicholson, a trained art historian, India travel expert, tour guide and author of more than 25 books, including the National Geographic Guides to India. "While Mumbai, Rajasthan, Tamil Nadu and Ajanta/Ellora are still among my favorites, historic cities in Central India are now readily accessible to tourists and absolutely worth consideration when planning your next trip."
Champaner, Mandu, and Chanderi are a few cities in Central India where stunning, medieval buildings nestled in beautiful rural settings are populated with only a few tourists, at least for now. Nicholson shared other hot trends in India during her conversation with ExpertFlyer. She noted that a number of heritage hotels in off-beat places are popping up throughout India and offer a fantastic departure from traditional hotels. Nicholson also included the cities of Pondicherry near Chennai and Ahmedabad in western India as new destinations that should be considered.
"India is certainly one of the most interesting cultures in the world and continues to increase in popularity among travelers all over the world," says Chris Lopinto, president and co-founder of ExpertFlyer. "Louise Nicholson is one of the foremost experts on tourism in India and I'm happy we were able to catch up with her again to learn about some of the new and exciting destinations to share with our readers."
To watch the full interview with Louise Nicholson, visit ExpertFlyer's blog.
About ExpertFlyer.com
Each month, ExpertFlyer's One-on-One blog goes face-to-face with the travel industry's leading decision makers to discuss and address topics relevant to many of today's business and frequent travelers.
ExpertFlyer.com was conceived and created by an eclectic team consisting of a veteran elite tier frequent flyer, an airline captain and corporate travel manager, and information technology professionals to deliver a 24/7 real time powerful air travel information service. The company provides its subscribers and corporate travel managers alike with a complete, concise and efficient way to access the ever-changing details of worldwide air travel information. For more information, please visit expertflyer.com.
Stuck in the middle seat again? Download the free Seat Alerts app from ExpertFlyer and get the window or aisle seat without hassle or frustration.