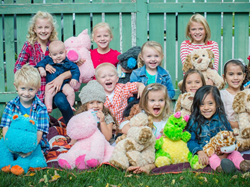 (PRWEB) March 23, 2017
Stuffed animals have come a long way since the first teddy bear made from felt, mohair and wood chips in 1903. iPetPals has taken this traditional childhood toy and paired it with the trending fusion of technology and music. From birth, parents instinctively use music to calm and soothe children, to express their love and joy, and to engage and interact. iPetPals help parents build on these natural instincts by sharing the gift of music at different times throughout the day to impact child development, improve social skills, and benefit kids of all ages. These furry friends add smiles to playtime and boogie time fun. Cozy and cuddly, they promote snores with streaming lullabies and soothing waves for napping or bedtime. iPetPals can easily adapt to any mood their little ones are in and are easy breezy to use.
iPetPals can attach to any MP3 player, iPod, iPad, iPhone, Android, Galaxy or other smart device to their iPetPal of choice. iPetPals have internal speakers build within their bottom paws and a hidden plug in the back pocket. This pocket is located at the top of the iPetPal's back and closes completely with an audio cord secured in the animal. iPetPal owners press play on their mobile device before closing the pocket to hear desired music. The volume is also controlled by the plugged in mobile device. Rest assured, iPetPal speakers DO have a max audio output level to ensure safe listening for delicate wee ones' ears.
A unique present for gift-giving on birthdays, holidays, rewarding good behavior or just because, iPetPals come in a variety of animal favorites. Children can snuggle up to and shake the sillies out with elephants, horses, giraffes, teddy bears, dogs, hippos, and more. Retailing at $49.99 for the standard size or $29.99 for the mini, iPetPals can be purchased on their website.