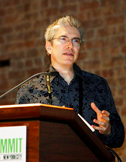 Search Engine Optimization improves the rankings of webpages and increases their traffic. This can also greatly increase exposure in instances of trademark infringement.
San Jose, California (PRWEB) March 22, 2017
Noted search engine marketer, Chris Smith, will be speaking at the conference on recent and emerging lawsuits involving search engine marketing and how those cases will impact search engine optimization ("SEO"), pay-per-click ("PPC") advertising, domain names, and ecommerce web design.
Smith served as an expert witness on the landmark U.S. federal court case, "PODS Enterprises, Inc. v. U-Haul International, Inc.," wherein PODS sued U-Haul for trademark infringement, and the jury awarded PODS over $62 million in damages. Smith provided analysis and testimony on behalf of PODS by establishing the SEO work conducted by U-Haul, and he helped to provide analytics data that helped multiply the amounts assessed in the damages calculations. The suit developed significant precedent as one of the highest awards ever in a trademark infringement case on the basis of corrective advertising. Previously, potential damages awards in trademark cases were considered more limited to obtaining smaller awards including court costs, primarily for the purpose of having courts order infringers to desist using marks.
Smith also notably served on the federal trademark infringement case, "Academy of Motion Picture Arts & Sciences v. Godaddy.com, Inc. et al", where he assisted GoDaddy in successfully defending itself in a claim that infringement had occurred through domains that were registered that included names containing the "Oscars" or "Academy Awards."
In his presentation, Smith will provide some details from these and other cases in order to inform attorneys and search engine marketing specialists on how internet marketing activities can create significant exposure and liability for infringement claims.
Chris Smith will present his talk entitled, "SEO & PPC In Trademark Law: The High Price Of What You Don't Know," this week on the third day of the SMX West conference.