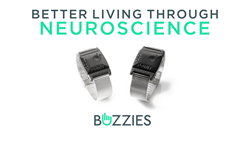 Arizona is home to a strong workforce and innovative thinkers. It's a no brainer to hire locally and build our business with Arizonans and Arizona values.
Scottsdale, AZ (PRWEB) March 23, 2017
The TouchPoint Solution, home of Buzzies*, is boosting the Arizona economy while helping people around the world to manage stress and anxiety.
"Buzzies change the way we interact with stress and live our day-to-day lives," said Dr. Amy Serin, neuropsychologist, inventor and co-founder of Buzzies.
Since its launch date in December 2016, The TouchPoint Solution has sold more than $750,000 in product sales. The company is growing quickly and is choosing to hire locally for all of its manufacturing, packaging and shipping needs.
Every aspect of the manufacturing process happens locally. Buzzies are manufactured by Quik Tek Assembly, a minority-owned business in Tempe and packaged by Cereus Graphics in Phoenix. Keeping with the company's conscious capitalism and philanthropy principles, Buzzies are packaged and shipped by legally blind individuals employed through the Arizona Industries for the Blind in Phoenix.
"As an Arizonan and experienced business owner, I know what this state has to offer," said Vicki Mayo, co-founder and CEO of Buzzies. "Arizona is home to a strong workforce and innovative thinkers. It's a no brainer to hire locally and build our business with Arizonans and Arizona values."
Buzzies are non-invasive neuroscientific lifestyle wearables that use patent pending neuroscience to relieve anxiety and stress. Buzzies can improve sleep, performance, and focus, and can reduce cravings and anger. Introduce peace to your daily life with Buzzies.
Buzzies are available to purchase at http://www.buzzies.com. One set of Buzzies is $239 and includes a wall adapter, charging cables, two Buzzies (one for each side of the body), clips and watchband attachments (watchbands not included). Stainless steel Milanese loop watchbands can be purchased for an additional $20 for a set of two bands. Buzzies are compatible with any 22mm watchband.
*Buzzies are not a substitute for medical treatment nor are they intended to cure any medical condition.
About The Touchpoint Solution
Neuropsychologist Dr. Amy Serin and child advocate Vicki Mayo founded The Touchpoint Solution in late 2015 with the mission of bringing relief to the millions of people who suffer from stress and anxiety. Over the last decade, Dr. Serin's work in therapy and neuroscience led to the discovery that a component of successful PTSD treatment could be used as a stand-alone product for a range of individuals whose stress and intensities hamper performance, relaxation, sleep, and their ability to cope with sensory stimuli. Dr. Serin used quantitative electroencephalogram data, existing neuroscientific research, and archival data to quantify significant brain changes after just seconds of use. Dr. Serin recognized that this method was too powerful a treatment to be confined to doctors' offices due to its effectiveness and simplicity and partnered with long-time friend and child advocate Vicki Mayo to bring the Buzzies to the world. For more information please visit http://www.thetouchpointsolution.com
About Buzzies
Buzzies are non-invasive, wearable devices that use patent-pending neuroscience technology to relieve stress and anxiety, improve focus, reduce cravings, improve performance, manage anger, reduce sensory overload and better enable sleep. They can be worn on both wrists or can be placed in more discrete locations, such as socks, pockets, etc. Buzzies need to be worn on both the right and left side of the body to be effective. Buzzies officially launched to the public in December 2016 and are available to purchase online at http://www.buzzies.com for $239.