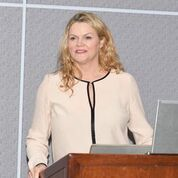 Before and after practicing Judo or engaging in a match, opponents bow to each other. Bowing is an expression of gratitude and respect. In effect, you are thanking your opponent for giving you the opportunity to improve your technique.....Jigoro Kano
San Francisco, CA (PRWEB) April 19, 2017
Currently over 15% of the world's population have a disability and are not afforded in many cases equal opportunities to participate in sports and physical education according to the United Nations (UN) Convention on Rights of People with Disabilities.
"Every human being has the fundamental right of access to physical education and sports, essential for development of one's personality," says Catherine Carty, UNESCO Chair Manager located at the Institute of Technology Tralee in Kerry, Ireland.
Carty goes on to say, "Transforming the lives of people with disabilities, their families and communities through physical education, sport, recreation and fitness" is not an option but an imperative and the UNESCO Project under her leadership is adamant in making it happen.
After learning about the work and success of the Blind Judo Foundation, Carty offered to meet Ron C. Peck, Co-Founder of the Foundation on her trip to Los Angeles where she participated and spoke at the IHRSA (International Health, Racquet and Sportsclub Association) Convention. A whole day was dedicated meeting, photographing, videoing and discussing the Project with the Blind Judo Foundation where the sport of Judo is used as a tool for inclusion.
Peck is also Co-Founder of Inclusive TV (ICTV) along with three time Emmy Award Winner William Kidston who also spent the whole day with Carty learning about mutual goals and opportunities in the disability community while photographing and videoing Chair Manager Catherine Carty.
Judo is the second largest sport in the world and its value dates back to 1882 with its founder Jigoro Kano. Judo transcends language, ethnic, religious, cultural and socio-economic barriers.
Time was also spent meeting Diane Cullinane, MD, Executive Director of PCDA (Professional Child Development Associates) and the work she is doing to transform the lives of her students. Physical education, sports and recreation is an integral part of the PCDA curriculum.
The UNESCO Chair Manager is very impressed with the PCDA approach and intends to collaborate further.
Also, Carlos Benavides, Commissioner on Disabilities for Los Angeles was present learning more about the UNESCO Project and how Judo might be appropriate for his area of responsibility working with disabilities in LA County.
Catherine Carty was impressed that Los Angeles has such an active and progressive Commissioner in place and physical activity, physical education and sport was of central interest.
Carty orchestrates the UNESCO Project from her location and position at the Institute of Technology Tralee in Kerry, Ireland. Carty goes on to say "we aim to facilitate the inclusion of people with disabilities in PE and Sport, in a top down and bottom up approach with a view of influencing both policy and practice."
To learn more check out the UNESCO Facebook page and the MINEPSVI (Ministers and Senior Officials Responsible for Physical Education and Sport) the only global platform of its kind, engaging governments, intergovernmental organizations, the sport movement, academia and specialized NGOs.
About us:
The Blind Judo Foundation is a nonprofit 501(c) (3) organization introducing and training blind and visually impaired children, young adults and individuals in the sport of Judo. Supporting our blind athletes to train, travel, attend camps and compete relies upon your tax-exempt donations.
All members of the Blind Judo Foundation are volunteers. A select few of our elite athletes go on to represent the USA as members of the US Paralympic (not to be confused with Special Olympics) Judo Team.
More about the Foundation can be seen on our Facebook page. Ron C. Peck can be contacted at roncpeck(at)blindjudofoundation(dot)org or 1-425-444-8256 or Coach Willy Cahill at 1-650-589-0724