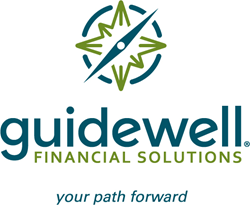 Guidewell FInancial has a 50-year track record helping clients gain financial information and skills. We're in a unique position to help women take control of their finances, no matter what stage of life they're in. ~ Helene Raynaud, President & CEO
Baltimore, Maryland (PRWEB) March 23, 2017
In today's job market, two in five working moms report they are the sole breadwinner for their families, and more often than not they are also the primary purchase decision maker. However, women are often paid less than men for the same job and studies reveal they feel less confident about money management. Nonprofit Guidewell Financial Solutions (also known as Consumer Credit Counseling Service of Maryland and Delaware, Inc.) is working to reverse this trend. In celebration of Women's History month, it recognizes women's strength and resilience and offers six financial services to help them become enlightened and empowered.
President and CEO Helene Raynaud says, "As women, we are sometimes so busy taking care of others that we don't look out for ourselves. Guidewell Financial has a 50-year track record of helping clients gain financial information and skills. We're in a unique position to help all women take control of their finances no matter what stage of life they're in."
The six services that help women become financially confident and secure are:
1. Budget counseling. All financial counseling appointments begin with a holistic financial assessment to help clients figure out where they stand and where they want to go. Counselors also help them set up a budget and look for ways to reduce expenses and increase income.
2. Credit counseling. Credit counselors help clients review their credit and loan accounts and evaluate possible repayment strategies. Based on this information, they then come up with a workable plan.
3. Debt management. Once clients have a budget in hand, they may be able to repay what they owe on their own. If not, they may be eligible to participate in the agency's structured debt management program or in worst cases situations to receive bankruptcy counseling and education.
4. Student loan counseling. Student loan debt counselors help borrowers review their loan agreements and consider possible repayment options. They also serve as client advocates during phone contact with loan providers and servicers. Counseling is available no matter if student loan payments are coming due, delinquent, or defaulted.
5. Credit building. Guidewell Financial's Save2Build loans help clients with no credit or poor credit build healthy credit. This type of loan is held in a locked savings account for 12 months. Program clients make payments of about $26 per month until their loan is satisfied. Their payments are reported to major credit reporting companies to help them build better credit. At the completion of the loan, they receive the $300 they saved.
6. EarnBenefits. Guidewell Financial recently instituted EarnBenefits to help Maryland clients access all of the assistance for which they qualify. This free, confidential tool helps match clients with 27 different benefits, including food stamps, health insurance, and housing and utility assistance. Through one-stop screening, it saves clients time and transportation costs.
All of Guidewell Financial's counselors are certified. Counseling and screening sessions take place by phone are at its offices in Catonsville, MD or Wilmington, DE. Call 1-800-642-2227 to schedule an appointment. Visit the agency's website to learn about its other services.
Raynaud says, "Reports show that 80-90% of women will not only be managing finances on their own but will also be solely responsible for their finances at some point in their lives. Guidewell Financial is delighted to offer these services to help women increase their financial skills and wellbeing. The more we all learn now, the better off we'll be."
About Guidewell Financial Solutions
Guidewell Financial Solutions (also known as Consumer Credit Counseling Service of Maryland and Delaware, Inc.) is an accredited 501(c)(3) nonprofit agency that helps stabilize communities by creating hope and promoting economic self-sufficiency to individuals and families through financial education and counseling. Maryland License #14-01 / Delaware License #07-01