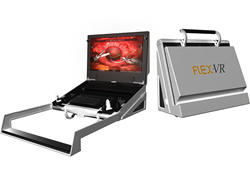 "We believe that accessible training is crucial for advancing surgical skills, and where better to train than in the privacy of your own home," said Jeff Berkley, CEO and founder of Mimic Technologies, "FlexVR™ is personal, portable, storable, & flexible.
Seattle, WA (PRWEB) March 24, 2017
In a world where robotic surgery is becoming more prevalent, Mimic is introducing the first robotic surgery simulator designed with mobility, flexibility, and storability in mind. Ideal for training centers, community hospitals, and individual robotic surgeons looking for a more personal training experience, the new FlexVR™ robotic surgery training simulator is on display at this year's SAGES, March 22-24, in Houston, Texas, as well as at EAU, March 25-27, in London, England.
The FlexVR™ simulator has been developed for surgeons in all stages of surgical robotics who need to learn skill sets such as camera control, instrument manipulation, energy application, suturing, and other foundational elements of surgical robotics. The platform also integrates augmented reality procedural training in 3D.
FlexVR™ provides the ability to guide and track all users throughout their training progression, whether they are a 4th-year medical student choosing their path, or a surgical resident wishing to hone their skills before entering the operating room. This is due to the simulator's ability to host specific curricula and use captured data in MScore™ to show both innate ability and skills mastery. Furthermore, the concepts learned on this system will be seamlessly transferable to the robotic surgical console and the OR.
FlexVR™ uses the same MSim™ psychomotor skills software that can be found on both the dV-Trainer® and the da Vinci® Skills Simulator. This validated software has been shown to allow surgeons to develop the key skills they require to become proficient robotic surgeons.
FlexVR™ supports Mimic's Maestro AR™ procedural curricula that have been developed by leading surgeons to teach common robotic procedures such as Prostatectomy, Hysterectomy, Partial Nephrectomy, and Hernia Repair.
As part of the Mimic family of products, this new system benefits from the MScore™ curricula management system that tracks performance towards proficiency objectives. This can be accessed directly on the system itself or in the cloud via the MScore Portal™ if the system has been connected to the internet.
"We believe that accessible training is crucial for advancing surgical skills, and where better to train than in the privacy of your own home," said Jeff Berkley, CEO and founder of Mimic Technologies, "FlexVR™ is personal, portable, storable, and flexible, which will expand the access of robotic training to a larger audience."