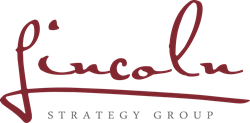 And while seeing our results through the lens of these numerous awards is a great honor, the real winners are our clients and citizens they represent.
Phoenix, AZ (PRWEB) March 23, 2017
Last week, the American Association of Political Consultants (AAPC) hosted its annual Pollie Awards. Hailed as, "the Oscars of political advertising," Pollies are awarded for excellence in political communication and public affairs work. This year, Lincoln Strategy Group was selected as the winner in three categories.
More impressive than Lincoln Strategy Group's three Pollies, though, is the collective number of awards Lincoln has racked up over the past few months – 13 to be exact.
In addition to the AAPC, Lincoln's award-winning campaigns have caught the attention of the Association of Marketing and Communication Professionals (MarCom Awards), PR Newswire (Digital PR Awards), and AVA Digital Awards. The recognition from industry leaders is a result of the tremendous work done on behalf of Nevadans for Affordable Clean Energy Choices, Save Our AZ Solar, and NY's Congressional races.
"It's an honor to be recognized by our peers for the incredible work we do on behalf of our clients," said Nathan Sproul, Lincoln's Founder and Managing Director. "And while seeing our results through the lens of these numerous awards is a great honor, the real winners are our clients and citizens they represent."
The awards that Lincoln Strategy Group has earned in recent months come as a result of the time and effort the consultants put into exceeding each client's goals.
The crux of the Nevada and Arizona campaigns involved delivering cohesive and digestible messaging on very complex renewable energy issues. Monopoly utility companies intended to limit solar choice, raise utility rates, and build unnecessary electric capacity. With Lincoln telling the story, Question 3 passed in Nevada with overwhelming support - 72.36% of the vote. The results gave Question 3 the largest margin of victory in any ballot measure run in the history of the State of Nevada.
In Arizona, the third largest solar user in the U.S., Lincoln linked the impact of the 10,000 solar jobs to the state's economy and what unfriendly solar regulations would mean for current and future customers.
"Our work in Nevada and Arizona helped protect all ratepayers from unnecessary utility assets being built, provide more energy choices, and elect a Corporation Commissioner with a more balanced and favorable disposition to Arizona solar jobs and customers," said Ulrico Izaguirre, Executive Vice President Public Affairs at Lincoln Strategy Group.
For the third award winning campaign, the for independent expenditure to support four NY Congressional races, Lincoln strategized and launched an extensive grass-roots effort to understand voters and develop targeted messages. In under five weeks, Lincoln knocked on 324,480 doors and, in the end, all four targeted candidates Lincoln represented were elected.
"Year after year we continue to deliver unparalleled winning campaigns for our clients both domestically and abroad," said Meghan Cox, co-Founder and Principal at Lincoln Strategy Group. "We count it an honor and a privilege to serve them and their communities."
Lincoln Strategy Group is an international full-service political strategy and public affairs management firm specializing in influencing positive outcomes for its diverse client base, whether in the political, regulatory, marketing or public affairs arena. Founded in 2008, Lincoln Strategy Groups has managed over 750 campaigns for clients both domestically and abroad across more than 15 different industries. Learn more about Lincoln Strategy Group and its award winning service at http://www.lincoln-strategy.com.