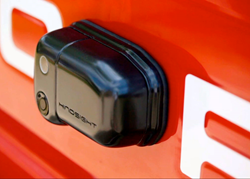 So Simple, Even a Child Can Use It!
Port Stanley, Canada (PRWEB) March 25, 2017
Completely self-contained, 4Sight Systems' Hindsight Sensor Unit contains a Lithium Battery powered 1080p HD Video Camera and obstruction sensor. It uses a unique Super-Sticky Polyurethane – Neodymium Super Magnet Base to create an instant and secure attachment to any clean, dry and flat surface. Establishing its own unique WiFi network with WPA2 encryption, the Hindsight sensor head streams high-quality video to any linked Android or iOS tablet or smartphone. The free, custom app has controls to tilt and zoom the camera through a 90-degree arc. The app sets up a unique, completely customizable centre-line and visual reference ladder. It sets up in seconds, no wiring is required and it can be moved and easily secured to another surface.
Although it can be used with automobiles and light trucks, the Hindsight Rear-View Camera System really shines with RV's, recreational trailers, utility trailers, highway transport trailers, farm equipment including tractors and wagons and even construction machinery like road graders and backhoes.
It's 80 foot useable WiFi range means that limitations are only based on imagination!
Designed in North America and the UK by a team of highly experienced engineering professionals and software designers, the Hindsight Rear-View Camera System is dust-proof, waterproof and impact resistant. The onboard ultrasonic obstruction sensor warns the user of an obstruction out to ten feet from the sensor head.
It's so simple, even a child can do it!