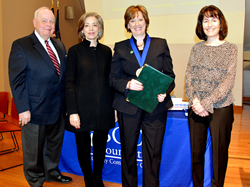 DOYLESTOWN, Pa. (PRWEB) March 23, 2017
Bucks County Community College has honored Penn Community Bank with its annual Community Award in recognition of more than 25 years of support for the college and its educational and cultural mission.
The college presented the bank with its Community Award at its 9th Annual Bucks Community Awards and Breakfast, held March 16 at its main campus in Newtown. The award recognizes the unwavering support that Penn Community Bank has given to the college over the years.
"Community partnerships such as this have helped us do things we wouldn't otherwise be able to do," said Dr. Stephanie H. Shanblatt, President of Bucks County Community College.
Penn Community Bank has put service to community at the center of its business philosophy. It commits to giving up to 5 percent of its net income to community organizations, and created an executive-level position, Chief Relationship Officer, to build and strengthen relationships between the bank and community organizations such as the college.
"This recognition is so meaningful to Penn Community Bank because it really validates the way we do business," said bank President and CEO Jeane M. Coyle. "We call it doing business backwards; focusing first not on the numbers but on our values and the way we behave. This award demonstrates that doing business with an open heart can not only be effective, it's really the only thing that counts and connects us."
The award recognizes the close relationship the bank and its two predecessors have had with Bucks County Community College over the years. First Federal of Bucks County played a crucial role in helping the college secure the property for its Lower Bucks Campus, and First Savings Bank of Perkasie was a lead supporter of the college's capital campaign for the Upper Bucks Campus in Perkasie. Both banks also supported the college's fundraisers, the Golf Classic and the Tyler Tasting Party, for more than 20 years.
That support continued after the two banks unified in 2015 to form Penn Community Bank. Today, the bank is the presenting sponsor of the Show Some heART events at the college's Lower Bucks Campus in Bristol, and is the sponsor of the Business @ Bucks Speaker and Networking Series.
Todd R. Hurley, Executive Vice President and Chief Relationship Officer of Penn Community Bank, said the bank's longstanding relationship with the college fits with its mission to partner with organizations that benefit all of Bucks County.
"Bucks County Community College is a vital educational and community resource for all of us," said Hurley. "Penn Community Bank is proud to support organizations that share our team's belief that success will come naturally when you put people first."
PHOTO CAPTION: From left: Bucks County Commissioner Charley Martin, Bucks County Community College President Stephanie H. Shanblatt, Penn Community Bank President and CEO Jeane M. Coyle and Constance M. Furman, President of the Board of Directors of Bucks County Community College Foundation, celebrate the presentation of the college's 2017 Community Award to Penn Community Bank in recognition of the bank's years of unwavering support of the college's educational and cultural mission.
About Penn Community: Penn Community Bank holds more than $1.9 billion in assets, employs more than 300 people, and offers banking, lending, insurance and investments at 23 bank branches and two administrative centers throughout Bucks County, Pennsylvania. As an independent, mutual financial institution, Penn Community Bank is not publicly traded and operates with its long-term mission in mind: to help businesses grow and prosper, to provide financial resources to individuals and families throughout their lifetimes, to strengthen the local economy, and to partner with local organizations to act as a catalyst for positive growth in every market it serves.
# # #