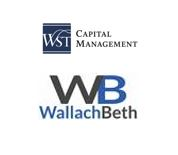 New York, New York (PRWEB) March 24, 2017
ETF strategist WST Capital Management (WSTCM) and WallachBeth Capital, a trading partner, were featured recently in the Index TV series produced by S&P Dow Jones Indices (S&P DJI), a division of S&P Global. A quantitative investment boutique focused on targeted asset class strategies and multi-asset investment solutions, WSTCM is a division of Norfolk, VA-based Wilbanks Smith & Thomas Asset Management LLC. WSTCM specializes in risk-managed investment strategies executed primarily using exchange-traded funds. WallachBeth is a New York-based institutional broker providing execution services to clients including WST Capital Management.
Entitled "A Behind the Scenes Look at Creating and Trading a Custom Index," the discussion was hosted by Shaun Wurzbach and Michael Mell of S&P DJI, and it featured Roger Scheffel, Chief Investment Officer of WST Capital Management, and Andrew McOrmond, Managing Director at WallachBeth. Conversation focused on custom indexing, a practice that WSTCM first undertook in 2012 in collaboration with S&P DJI, and on the role of trading execution in the effort to track those indices in portfolios.