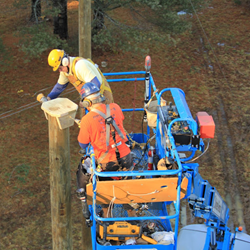 "We're honored to have partnered with L.L.Bean on a project that will expand its program offerings with a unique new element." -Richard Ross, Executive Director, Project Adventure
BEVERLY, Mass. (PRWEB) March 28, 2017
When L.L.Bean decided to build upon its extensive array of outdoor activities offered at their Outdoor Discovery Schools, they knew they wanted a challenging adventure-based outdoor learning experience that combined teamwork, problem-solving, relationship building and more. As a result, L.L.Bean chose Project Adventure to design and install a ropes course, as well as provide training in outdoor experiential learning to its staff.
Project Adventure has been working with schools and organizations for 45 years and was excited when L.L.Bean approached them about the opportunity to develop a ropes course that encourages team building, improves communication and decision-making, all while having a great time outdoors. Richard Ross, the Executive Director of Project Adventure, stated, "We're honored to have partnered with L.L.Bean on a project that will expand its program offerings with a unique new element."
While the work may have started this past fall, it will continue far into the future as staff members at L.L.Bean will be trained as course facilitators to develop social emotional learning programs that benefit area schools, youth agencies, and other local organizations.
ABOUT PROJECT ADVENTURE
Project Adventure is an innovative non-profit teaching organization and a respected leader in adventure-based experiential programming offering a wide range of programming as well as challenge course design and installation. Since 1971, Project Adventure has been committed to its mission of producing life-changing outcomes by facilitating transformative group experiences. For more information, visit http://www.pa.org.